TRIP TO SUN N FUN, 2012
APRIL, 2012 - Last year, I tried to fly to Sun N Fun for the first time. I made it as far as North Carolina, had to stay overnight at Duplin County, NC (KDPL) and had to spend another night in Columbia County, NY trying to get back. It was just as well I didn't make it, as I missed out on the big tornado there. I was hoping for better luck this year.
I'd planned to leave for Sun N Fun sometime between Saturday and Monday before the show started. As the weekend approached, I began checking the forecasts more closely. It was becoming apparent that Monday was going to be the day to leave. It was pretty good weather all the way, although forecasts were for quite windy conditions, from the north. I figured that, as long as I could get off the ground safely and up into it, I'd be OK, providing I could find a place to land that had a runway aligned with the wind.
Even though I'd been planning the route on my iPad for a month, I had to make some last-minute adjustments in the plan, due to the weather. I'd planned fuel stops at KFMV Accomack County, VA and KARW Beaufort County, SC, but with the expected tailwind, I figured I could probably do it in one stop. The midpoint was KISO, Kinston, NC, but it became more apparent from the Sunday night TAFs that Monday was going to be fairly clear, but quite windy from the north or NNW, up to low 20s gusting to low 30s. So I didn't want to stop at an airport like KISO, with a 5/23 runway, in winds like that. The best bet looked like KEYF, Elizabethtown, NC, with a 15/33 runway, but that was quite a long stretch beyond Kinston, and I didn't know if I could make it that far.
The wind wasn't expected to get really blasting until about 0900, and it was forecast to be somewhat weaker the further south I went. I lined up about 5 alternate airports between Norfolk and Elizabethtown, about 30 miles apart, in case I didn't have the fuel to get to Elizabethtown.
Sunrise was at 0645 and first light at 0615. I slept at the hangar and got up at 0530, with the plane already fueled and preflighted the night before. Unfortunately, the high winds and mostly clear skies I was expecting hadn't yet materialized, and it was raining, so I chilled out awhile. The rain didn't last long and as it got daylight, I could see the ceilings were still pretty low; METAR was reporting MVFR, but it was better further south, toward Keene and Bradley. New York was reporting clear and windy.
I took off about 0715. It was getting a bit windy, but not too bad, It was minimal VFR, but not quite MVFR, so I definitely wasn't going to be able to straight-line it over the Green Mountains & Berkshires toward New York City, as planned. I'd also originally planned to do the New York Hudson River VFR corridor, but when the high winds TAF came along, I wasn't going to try that in windy conditions.
I have Sirius XM/WX on my 496, so that was quite useful to see the METARs ahead as I went along.
After takeoff, the ceilings and visibility looked a little worse from the air than I'd expected from studying the METARS, but going down the Connecticut River valley seemed safe and doable, so I opened my flight plan and headed toward Bradley, keeping myself halfway between the overcast and the ground. As I got closer to Bradley, I was able to get a bit more altitude, and got hooked up with Flight Following. After Bradley, the cloud cover was getting higher and looking better ahead. Before I got to the New York Class B, it was completely clear, so I went up to 4500, then was cleared through Class B at 6500.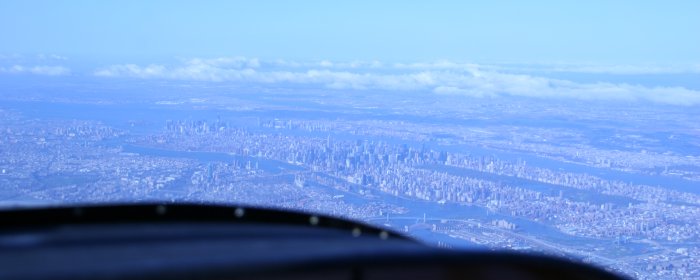 New York City from 6500 feet
As has been the case with most of my trips to the south, the air was quite turbulent between Springfield, VT and New York City. After entering New York Class B, it was smooth as silk all the rest of the way, except when I came down for my landings. I was getting 40-50 mph tailwinds down to Elizabethtown.
It was also quite cold when I left Springfield - upper 30s - so I was well bundled up; long underwear top & bottom, heavy shirt, down vest, jacket, plus my survival vest and over-water flotation vest over all that. By the time I got to Elizabethtown, I was sweltering. It was in the 70s there.
My RV has terrible climate control, and it's the next thing I'll be improving. The original builder didn't install the air vents in the side of the fuselage – instead, he picked up the incoming vent air from under the cowl, off the top of the engine. Not only could that cause problems with smoke or bad air in the cockpit, it also makes the incoming vent air at least 15 degrees warmer than OAT. A couple weeks ago, I ordered the NACA duct-based ventilation system from Van's, and I'll be installing that ASAP.
The heater on my plane is also pretty much useless. Even if OAT is only down to the 40s, it's cold in the plane, and the "heater" air isn't even lukewarm. Last fall, I attacked that problem by wrapping the exhaust system and heater muff with fiberglass wrap used on motorcycle racing exhaust systems, to try to better hold the heat in. Fortunately, I happened to mention my great idea on Van's Air Force before flying with it like that. Larry Vetterman contacted me and said DON'T DO THAT – holding in the heat like that will melt your pipes. He said the exhaust system acts as a heat sink for the engine, and it needs to dissipate heat. So I removed all the heat wrap. With the fresh air ducting kit I ordered from Van's, I also ordered a new heater muff that I'll be installing, and I hope it will improve things. I may also subsequently install a second one in series with the first, if this new one works out well.
So, in part, I've been helping control inside air temp by altitude selection – if I'm hot, I fly higher, if I'm cold, I fly lower. Not a great solution, but I'll be fixing that soon.
As I flew along, it became increasingly apparent that I'd make it all the way to Elizabethtown with no problem. I had over an hour of fuel remaining when I landed. During descent and approach, the air was pretty rough, but I landed fine – winds weren't as high as predicted and they were coming right down the runway.
While I'd originally chosen KEYF only because its runway aligned with the high winds, it turned out to be a super choice. As I called the Elizabethtown CTAF during approach, the FBO called me and asked how many hot dogs and burgers I wanted. At the time, I was very hot and uncomfortable, getting slammed around pretty hard, and food was not high on my priorities, so I said I'd deal with it on the ground. As it turned out, not only did KEYF have gas prices about a dollar a gallon cheaper than any other place (mid $4s), they also encourage Sun N Fun traffic by offering free hot dogs, burgers, and beans to people landing there. They were exceptionally nice and accommodating. I highly recommend KEYF as a fuel stop.
After landing and taxiing, the first thing I did was strip off all the extra clothes I was wearing. I felt much better after that. I had a great lunch and nice conversation with the good folks there. After about 45 minutes on the ground, I was airborne again, barefoot and wearing shorts and a T-shirt this time; much more comfortable.
As the day was heating up and the winds from the north increasing, I got up to 60 mph tail winds the rest of the way to Lakeland. Ground speeds were in the low 200s, while sipping fuel at 7 gph. It was about 4 hours to Elizabethtown and another 3 hours to Lakeland.
I'd studied the SNF NOTAM many times prior to departure, and I had it with me as I descended under Orlando Class B and headed toward Lake Parker. It was fairly turbulent after I began descending. I muffed one part of the approach to Lakeland. The NOTAM talks about the two white towers on the final approach, but it doesn't mention that there are actually THREE white towers in a row there. I couldn't remember if the "cake" tower was supposed to be on my left or right, and I was too busy flying in the turbulence and looking for traffic at the time to look it up in the NOTAM. There was no one in front of me to follow. I went between the first white tower and the cake tower, then realized I should be on the other side of the cake tower. So, I eased on over to the right and merged with traffic that was on the correct path. So the key thing to remember here is to not think about other towers mentioned in the NOTAM and just go to the RIGHT of the cake tower, and you'll be on the right path.
Landing at Lakeland (27R) was uneventful, and I taxied to Homebuilt Camping.
Weather was great every day there – sunny or partly cloudy, no rain, mid 80s. It's like AirVenture, only much smaller. AirVenture seems to be full from the first day, with perhaps the same number of people coming and going during the week, or more leaving than arriving. SNF was different in that it seemed to build all week. Some people left as the week went on, but there were many more arrivals than departures. The first day or two, there weren't very many planes at HBC, but by the time I left, it was full. On the first day or two, the trams had hardly anyone in them, but by Thursday, they were always mostly full. I liked it – I got the full experience, got to see it all, and it was less crowded than Oshkosh. Also, HBC was about 95% RVs and probably 75% of those were taildraggers.

My RV-6A in HBC, next to an RV-10 from Texas and an RV-8 from Calif. Taken Wed AM. By Thursday, this field was full
Homebuilt Camping at SNF was different from AirVenture. At Oshkosh, it's in closer, in a more desirable location than general aircraft camping. At SNF, it's so far out in a far corner, it isn't even on the map – just an arrow in the lower right-hand corner pointing to where it is. Most of the camping amenities are in the other corner, near general camping. The only thing that saved HBC from being a disaster is Mary Jane (sorry – didn't get her last name) and her parents, who are volunteers, running HBC. They provide a big tent for shade, chairs, tables, a generator to charge iPads & phones, evening food & drinks for a donation, a welcoming presence, and a great sense of camaraderie throughout the week. They are truly the saviors of HBC. I cannot say enough good things about Mary Jane and her family, and how they made HBC a great experience.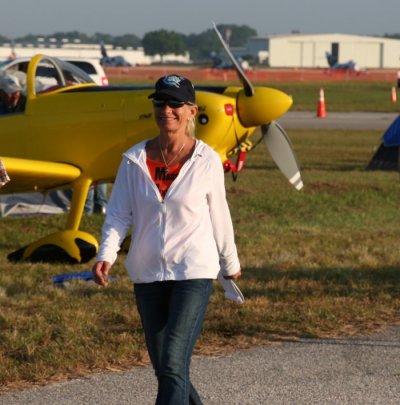 Mary Jane, HBC volunteer host
I found the food at SNF to be MUCH better and more varied than at Oshkosh. At Oshkosh, people get mighty tired of brat, especially those who don't have a car to drive to outside restaurants. At SNF, I had something good and different with every meal. The breakfasts are about the same as OSH – scrambled "eggs" that aren't really eggs, and a few other things. But at SNF, I had a gyro, paella, BBQ chicken, roast pork, catfish. And there were many more interesting options, if I'd stayed longer.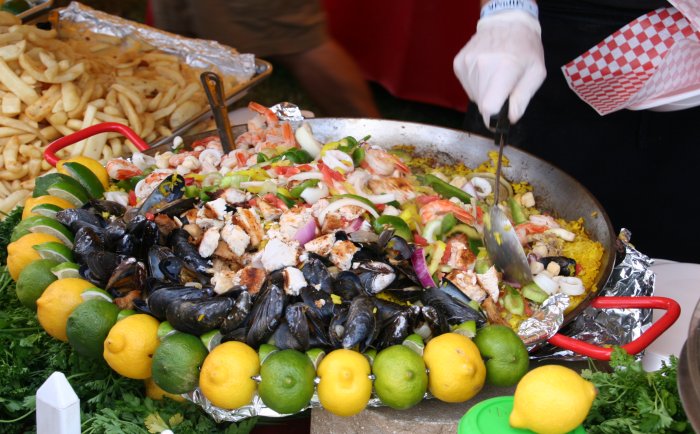 Paella – much better than bratworst every meal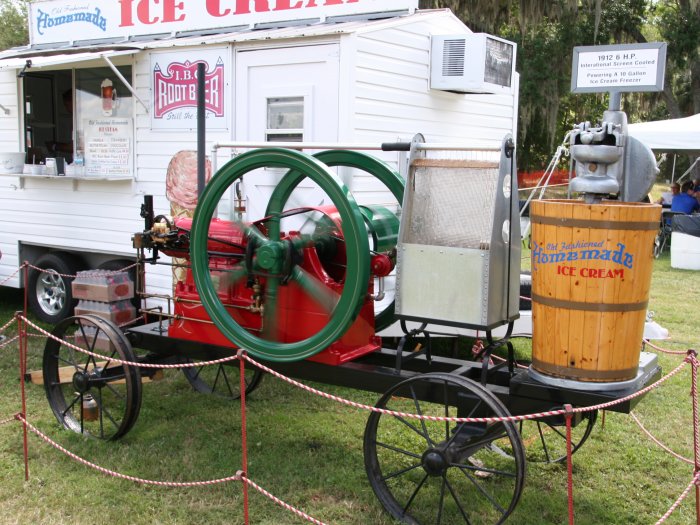 Homemade ice cream, made with a 1912 International Screen Cooled one-lunger, powering a 10 gallon ice cream freezer
Wi-fi is not as good at SNF as at OSH – coverage is very limited, and you have to pay extra to get it, even though SNF admission & camping prices are about the same as OSH. The person camped next to me said he tried it and the company selling it wanted too much personal information, so he didn't do it. You'd also have to walk a long ways from HBC to get into their limited coverage area to use it. At OSH, it was right there in the HBC campground, along with showers, water, electricity, etc. There were two internet cafes over in the main section, each with 4 PCs available at no charge.
Another thing about HBC versus Homebuilt Parking or other parking/camping is that they clear them out every day for the airshow. I believe it was just for the Thunderbirds, but I know people were complaining about it a lot on Van's Air Force forums. So, if you park in Homebuilt Parking, you can't go near your own plane the entire afternoon. Perhaps it's Homebuilt Parking that is off-limits during every air show, and the others, like General Aircraft Camping and General Camping, are additionally off-limits during the Thunderbirds. So that situation was a big plus for being in HBC.
I never did find out what was up with the Welcome Wagon at SNF. When I flew to OSH, the WW was a constant presence, especially at HBC. Upon arrival, they were right there, and took care of every HBC arrival's transportation needs. Any time we needed a ride, they were there for us, or a quick phone call away. I volunteered several days of driving the Welcome Wagon while I was there. At SNF, I saw the Welcome Wagon very briefly about once every two days.
As the week went on, the weather forecasts for the east coast made it clear I should leave Friday. I debated whether to leave right after the airshow on Thursday or first thing Friday morning. The advantage of leaving after the airshow is that you have all day to casually take down your campsite, dry everything out in the sun, pack the plane, do route planning, weather checks, etc. The down side is that you're only going to be able to fly a couple hours before you have to stop (I'm not comfortable with the idea of a forced landing at night), the FBO where you land will probably be closed, and it's usually blistering hot, more wind, more humidity, long taxi lines, and quite hectic and rushed after startup, due to everyone trying to leave at once. When I flew home from AirVenture 2011, I left after the airshow.
I decided to try an early morning departure from SNF. I packed everything I could the night before, and planned to just stuff the wet tent in there and dry it out when I got home.
Sunrise was at 0730 and first light at 0700. I got up at 0620 and was all packed and ready by daybreak. It was wonderful – clear, calm, cool. A couple guys helped me drag the plane off the grass and onto the tar to be ready as soon as the flagmen arrived. There was one significant problem I hadn't expected. Even though I have a canopy cover, as soon as I removed and packed it, the windscreen dewed up, inside and out. I wiped it down, but the condensation kept coming back. I hoped the wind from the prop would clear it after startup, but it didn't. As I started taxiing (very slowly), it kept getting worse, and I couldn't see anything. I kept reaching out around the windscreen and wiping enough of it with a towel to barely see, but it was just one corner. The rest of it just kept getting worse. Finally, it was so bad I had to stop and ask one of the flagmen to come over and climb up on my wing and wipe it down for me. I don't think he was a pilot, because then he stepped on the wet flap or the "no-step" portion of the wing, and slipped and fell on the wing/flap, but it didn't look like he'd damaged either.
I continued taxiing very slowly, at a walk. I was first in line, and I knew there was at least one plane in line behind me. So I had no one to follow and I didn't want to hold up the line behind me by stopping again. I expected the departure to be like OSH and like it had been at SNF the night before – a flagman at every corner, and an ATC guy at the end of it all, clearing me to the runway. I suddenly realized there was a big concrete area in front of me, a Cessna facing me from the other side of the big concrete area, and no people in sight. Then I saw a plane low in the air off to my right and said to myself "Hey – that plane looks like it's about to land right in front of me – I'd better stop and sort this out." I sat and watched. The plane landed in front of me, then the Cessna pulled forward and took off in front of me. I realize now that I was at the intersection of closed Runway 5 and Runway 27L, and had no doubt already done a runway incursion, as there were no painted lines in front of me. There was nothing on the radio, so I tried the other frequency and ATC asked if the white low wing was ready to go, and I said I was, so he said "cleared for departure – no delay", so I closed the canopy and boogied out onto what by now was clear to me was Runway 27L and took off just as the sun was coming up.
I'd noticed that oddity with the radio frequencies the night before, when I was checking out how people left and how departure was done. It didn't seem as organized as at OSH. At OSH, when you check the ATIS for departure, they tell you what runway is in use, and thus you know what frequency to use. There's also a big sign as you taxi, telling you what frequency to be on. At SNF, the NOTAM lists different frequencies for 9R/27L and for 9L/27R, but the ATIS doesn't say which one they're using. In fact, that morning, I wasn't getting anything at all on the ATIS frequency – I was just following the flagmen.
The night before, I had asked some of the flagmen how someone was supposed to know which runway, and thus which frequency, a departing plane was supposed to use. No one could answer the question, though. I think the best answer I got was "just follow the flagmen". In the morning, I was so rattled by the windshield problems during taxi, I forgot to keep trying both frequencies until I found one with people on it. Mainly I was expecting to see flagmen all the way to my runway.
One lesson of several learned – if you've never done it before and don't know where to go or what to do, don't be the first one in line.
Anyway, it was a beautiful morning, clear and calm, no one mentioned the runway incursion, and I went west for 3 miles as directed, then headed northeast toward Orlando Class B. I'd noticed on the way south that, even though the NOTAM had said to not expect any ATC services beyond Orlando, Orlando ATC had given me flight following right up to Lake Parker, and it had seemed to me that they preferred people talking to them, rather than not talking to them. So, even though the NOTAM had said to not expect any services until I got to the Georgia line, I called Orlando Approach, and they immediately gave me a squawk code and flight following before I even asked for it.
I stayed at 3500 until I was north of Orlando Class B, then went to 5500. I had a mild tailwind back to Elizabethtown. I might not normally have stopped at Elizabethtown on the way home, as it was before the halfway point, but the people had been so nice, I wanted to stop there again. While I made it to there southbound with a big tailwind, I wasn't confident I could make it from there back to KVSF Springfield, VT without a strong tailwind. I figured I'd just try it anyway, and if I got too low on fuel, I'd just make a second stop.
Since I bought the plane in the fall of 2010, I have gained a lot of confidence in my FuelScan-450 fuel computer. The person who installed and configured it did a good job. It's very accurate. I always double check its accuracy when I refuel, and it's always slightly off, in the right direction. The plane always has a few tenths of a gallon more fuel remaining than the computer says it has.
The weather was a bit overcast and turbulent in Elizabethtown, but clear or high clouds to the north and south. Temps in 70s. I should have put more clothes on there, but I didn't appreciate how much colder it would be at home. I really should have known better. By the time I got to New Jersey, it was starting to get a bit chilly in my shorts and T-shirt.
Radar also showed rain off to my left, over the DC/PA area, but I scooted by it, coming up the VA peninsula, then the NJ peninsula. After I went by, the radar showed the rain had moved over my path, so I lucked out on the timing of that.
Even though I was getting a bit chilly, I didn't want to descend from 5500 because I knew I had New York Class B coming up, and I was trying hard to conserve fuel by flying the straightest route I could and not changing altitude. I considered requesting the New York Hudson River Skyline Route, but I didn't want to spend the extra fuel to do it, so I went straight through.
I got vectored a bit through Class B, then it was on to Springfield. As usual, after the Class B, it was quite bumpy. I descended to 3500, then high 2s because I was getting quite cold as the OAT dropped 60s-50s-40s. I wrapped my down vest over my shoulders and around my neck, which helped some. With the turbulence, I couldn't unfasten my harness to put the vest on properly.
I also had some headwind after New York. Because I was down low so it wasn't quite so cold in the plane, I came back up the Connecticut River valley via Bradley, rather than a straight line over the mountains. OAT was down to mid 30s coming north from Bradley, and more headwind, but by then I could see that I definitely had enough fuel to make it home. I was shivering and getting quite cold.
Springfield was reporting 350@8 gusting to 15, so it was a coin toss between runway 29 or 5, so I landed 5 with no problem, and I was back home. In a reverse of when I landed at Elizabethtown on my way south, the first thing I did upon landing was dig out all the heavy clothes I had and put them on. I refueled the plane, and confirmed that I'd had nearly an hour of fuel remaining when I landed.
The timing of the trip turned out to be ideal. I got to Sun N Fun the day before it started, which seems to me to be the perfect day to arrive. I saw everything at least once, before it got more crowded, and I had very nice weather for the return. The next day I awoke to snow in NH and bad weather all over the east coast, so it worked out perfectly.
The TruTrak EFIS/AP worked flawlessly, and continues to be the best money I ever spent. The Garmin 496 with WX is worth its weight in gold, too, as is my iPad with WingX and ForeFlight. I also had recently purchased a BluLink adapter for the headsets, so I was able to listen to the music on my iPhone when I was in cruise (see subsequent BluLink review HERE). I also had installed a mount for my Drift camera, which worked out well, except that, upon reviewing the videos after getting home, the battery on it died just as I was turning base for landing at Lakeland.
STATS: KVSF – KEYF = 711 mi 28.0 gal 3.9 hr 7.2 gph 25.4 mpg KEYF – KLAL = 528 mi 19.3 gal 2.9 hr 6.6 gph 27.3 mpg KLAL – KEYF = 539 mi 23.3 gal 3.2 hr 7.3 gph 23.1 mpg KEYF – KVSF = 705 mi 31.1 gal 4.4 hr 7.1 gph 22.6 mpg
SOME HIGHLIGHTS: I talked to Dick Van Grunsven about the cooling air vent system on my RV-6A, and he agreed that it is not good. I also talked to him about placement of the NACA ducts. I was hoping to be able to install them further aft than shown on the plans, for ease of retrofit, but he said he'd Been There Done That and they wouldn't work in another place.
I checked out the Van's RV-1 on display, but I didn't take a picture.
I saw a true "flying boat" - an aluminum fishing boat upon which someone had attached wings and an engine.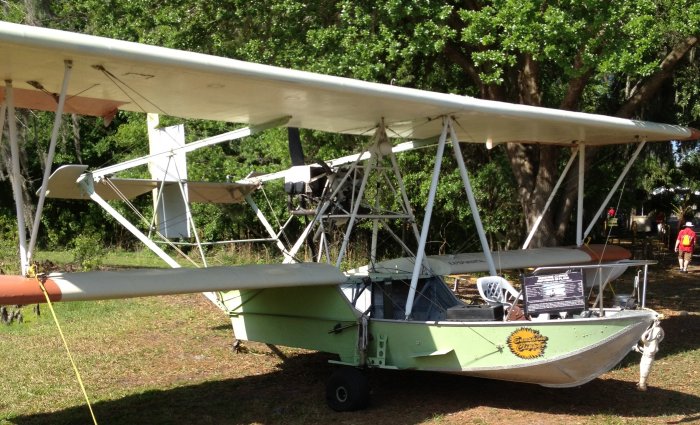 Truly a "flying boat"
Seeing the Thunderbirds arrive and do many high speed low passes on Thursday was spine-tingling.
I checked out the AeroTrek planes and matching trailer, and met Bob Sullivan from Pittsfield, MA. When I sold my RV-7A project, I'd originally planned to buy an RV-12, then decided against it because there are no trailers for it. I then decided on an AeroTrek A240, and spent a lot of time talking on the phone to the distributor and to Bob about the AeroTreks. I ended up deciding to keep my slow plane (Quad City Challenger II) and get a fast RV until I retire in a few years. After I retire, I plan to sell both planes and the Springfield hangar, and just have one plane that I can take around with me and store in its trailer – an AeroTrek. I believe Bob is planning to bring his A240 to the EAA106 LSA showcase later this year. Bob and his AeroTrek were also featured in an article in the January AOPA magazine.

Bob Sullivan's AeroTrek A240 and the AeroTrek trailer
I checked out the SeaRey Light Sport amphibians. Not only are they very cool, the manufacturer is working on a folding wing version. If I end up retiring part of the year in Florida instead of California, this would be a super plane to have. They cost quite a bit more than the AeroTreks, though. The AeroTrek really has a lot going for it.

The SeaRey, with gear retracted
I attended a seminar put on by Jan Bussell from Okeechobee, Florida. I took my RV transition training from him, and his seminar was an excellent review of that training.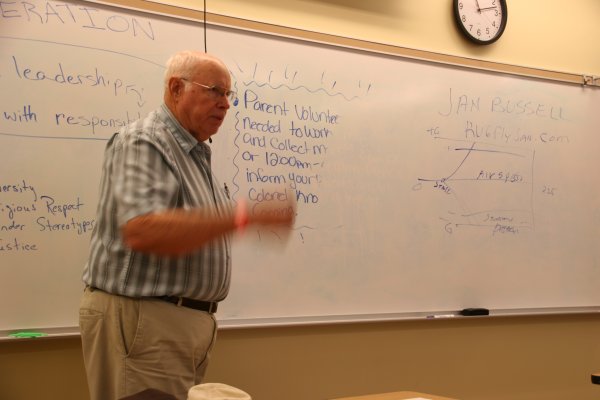 Jan Bussell
I attended a seminar on the iPad in the cockpit. As at Oshkosh, all aviation iPad seminars are VERY popular and standing room only. SNF had quite a problem with errors in their seminars schedule. Two of the three seminars I attended were not when the schedule said they'd be. For my initial attempt at the iPad seminar, it was in the largest room available. When I went to it, the room was PACKED. But up on the screen was something about careers in aviation. As the seminar started, I raised my hand & asked if this was the iPad seminar. The presenter said no. I felt bad for him – when he said that, the entire room got up and left, with everyone saying "where's the iPad seminar?"
ForeFlight announced a new Stratus ADS-B receiver they developed to work with their app, and it will be sold by Sporty's. There were no show specials on it, though, so I didn't get one. I continue to hope that the cost of ADS-B receivers will come down. ADS-B receivers may get free weather, but I can pay for Sirius XM/WX for at least 2 years for the current cost of the ADS-B receivers. Seeing the weather on an iPad would be better than on the much smaller and more awkward-handling Garmin 496, though. The Stratus is $800, so it's also the cheapest ADB-B so far. However, it only works with ForeFlight.
Another company (Levil) has an AHRS unit to work with the synthetic vision feature of WingX. I haven't used that feature on my WingX yet, but it was something to consider. Another $800-1000, depending on model.
I saw another flying car model – this one is called the Maverick, and it's not a fixed wing, it uses a parachute, like the flying parachutes. A transmission drives either the wheels or the prop, and a long pole holds the parachute up in the inflated position until it's flying.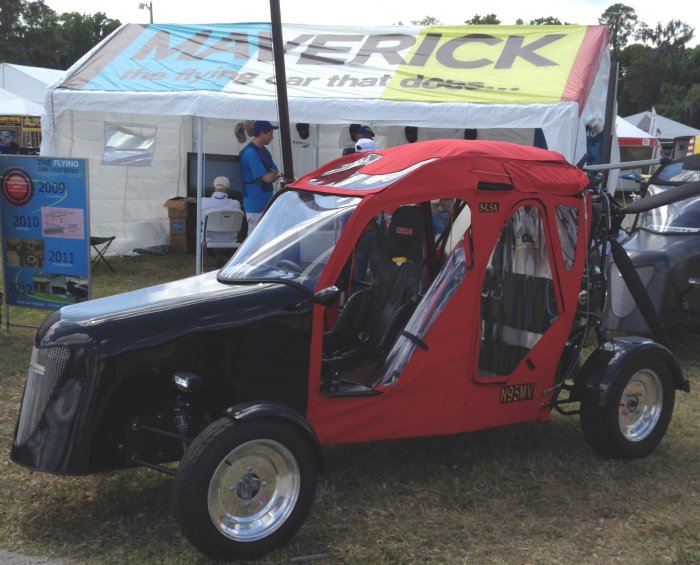 Maverick Flying Car
I saw a claimed "RV-6.5", supposedly an RV-6A that had been reduced in weight to 888 pounds to make the LSA class. It was also for sale for $155K, about triple the price of an RV-6A. I don't believe it – if it was possible to get the 1100 pound empty weight of an RV-6A down to 888, everyone would be doing it – perhaps the owner removed the engine.
I saw a Challenger II with an 80 HP turbocharged HKS 4-stroke engine. My 50 HP Rotax 503 has all the power it needs, and it takes off almost like a helicopter – it's hard to imagine 80 HP.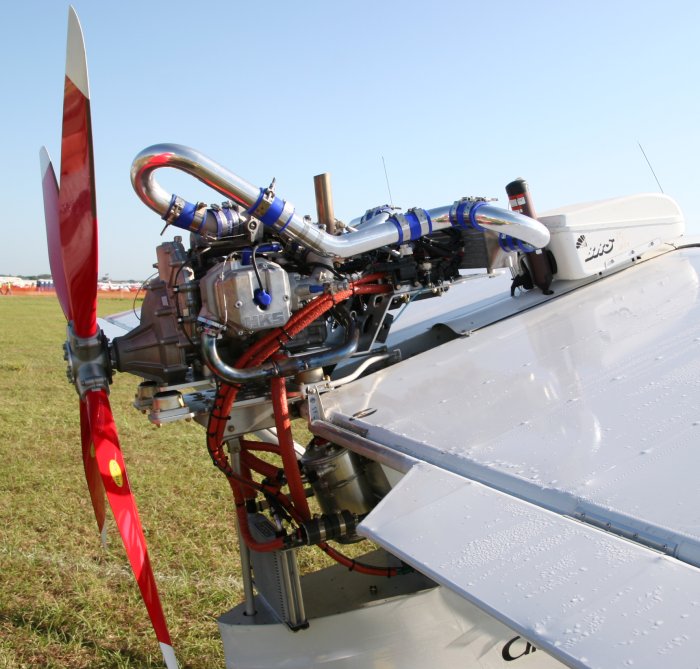 Turbocharged 80 HP HKS on a Challenger
Other trip reports HERE
BACK TO MY RV BUILDER'S HOME
BACK TO BRIAN'S HOME