!BODY background = "s-dream.gif">

<!BODY BGCOLOR="#FFFFFF">
AVIATION
This page is the starting point for my new big interest in aviation. I got my Private Pilot license at Signal Aviation, Lebanon, NH in May, 2002, and I've been flying every chance I get. I have also been taking aerobatic flying lessons at EFA in Bedford, MA.
I passed on a good deal to own 50% of a Sundowner, in order to build my own plane; one that will be high performance and aerobatic rated.
I recently ordered a kit from Van's for their RV-7A
I will log my progress on the plane as an entire sub-site HERE.
Also, see my HANGAR page
Here is an outstanding picture of a jet breaking the sound barrier.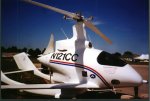 Here is a wild design. I took this picture at Oshkosh 2002. I also saw this featured on Discovery Wings Channel. Very cool aircraft! Claims to take off like a helicopter and cruise at 300 mph. It's a CarterCopter. You can't really buy one now, but maybe in the future..... If I could buy one now, perhaps I'd have gotten one of them instead of an RV-7A. Much more expensive than Van's, though.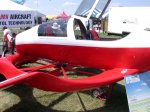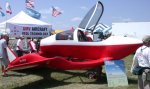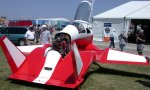 Here is another wild design, from Oshkosh 2003. It's sort of a gyrocopter with wings. The fan lifts it up, then when it tilts forward, the wings become level, and it flies away.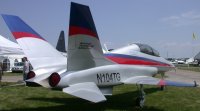 And since I seem to be showing my favorite ultimate plane from each year's AirVenture, here is truly a dream plane, from Oshkosh 2004. I am not sure if it's a real plane or a mockup, but it SURE is COOL! It's a Javelin, by Aviation Technology Group. They also had a very cool (and different-looking) model at OSH'03, but the pics I got of it then weren't as good. They had a new mockup or prototype at OSH '05. 2009 UPDATE: they went bankrupt in May, 2008 - too bad. As of November 5, 2007, there were 153 positions on the waiting list for the plane - they probably all lost their money. Cool aircraft is a risky place to be.
The VIPERJET is also a very cool dream plane. They do have one flying, I believe. The L-39 is also very cool. Both these jets have incredible fuel flow rates.
Go here to see some of my favorite plane pics.
Click HERE to see a series of great pics of airports around the world
May, 2008 update: I'd been quite interested in getting a Light Sport plane while I continue to build my RV-7A. Unable to find any local instructors for these types of planes, I flew to Deland, FL, north of Orlando, and took a week's transition training in the LSA of my choice, a Quad City Challenger II. On the way back from Florida, I stopped off in NC and bought a very nice used Challenger II.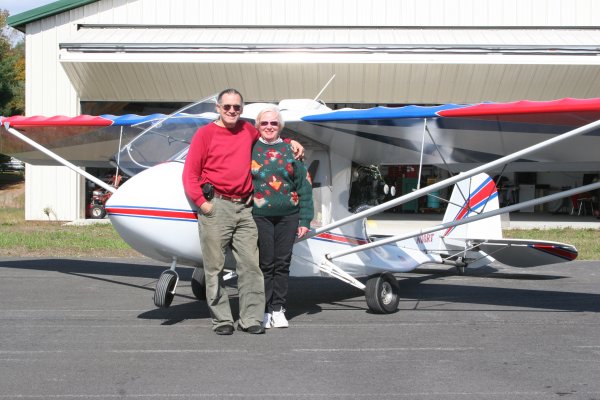 Karla and I at our hangar with the Challenger II. This plane is a TOTAL blast to fly! As of the end of 2009, I had a couple hundred hours in it.
last updated Feb 18, 2010
BACK TO MY RV BUILDER'S HOME
BACK TO BRIAN'S HOME