JULY, 2003 fuselage work
July 3 - I talked to Jan Eggenfellner at Eggenfellner Subaru aircraft engines about his new 200 HP engine. He is putting the first one together in his own plane, and will be flying it to OSH. So, I'll look at it there, and decide which engine I will use. I also exchanged some emails with Van's, and they said I can return the FI fuel pump I just bought from them for the Lycoming engine. Close call on that - another couple days, and I would have completed the plumbing for that fuel pump. As it is, it's all wasted work on the sheet metal part of the fuel pump kit, assuming I do go with the 200 HP Subaru. So, all the fuel plumbing work is now on hold until I figure out for sure which engine I will use. Jan did say that the new 200 HP 6 cylinder Subaru will fit in under the same RV-7A IO360 cowl that the 165 HP 4 cylinder engine used, so that's a relief. I'll also have to return the Lycoming engine mount. See ENGINE page for details.
Rivet fuel pump cover. Clean up workbench. 1.5 hr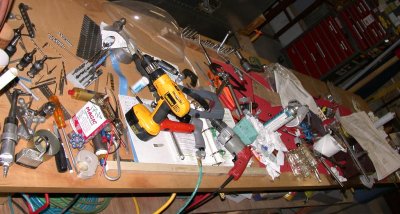 Time to clean up the workbench!
MY FINISH KIT IS BEING DELIVERED NEXT WEEK!!
My fuel plumbing work in the cabin is on hold for now, until I decide at Oshkosh which engine to use. Started working on mounting Empennage to Fuselage.
July 11 - Receive Finish Kit!
GO TO AUGUST fuselage
BACK TO MY RV BUILDER'S HOME
BACK TO BRIAN'S HOME