TRIP TO TRIPLE TREE AERODROME, SEPT, 2018
Tue, Sep 4, 2018 - I had flown to the Triple Tree fly-in for the first time back in 2015, and I thought it was so wonderful, I wanted to go again with my wife, Karla.
We got up early, and it looked like a great day for a flight. Good weather all the way to South Carolina. The fog from the Connecticut River was burning off nicely. I'd gone over to the hangar the day before and fueled and pre-flighted the plane, so we'd be ready to go immediately upon arrival in the morning. We got to the airport and I realized I'd left the iPad at home! Grrrr! So, over an hour round trip to go get that. Now it's starting to get rather hot. We are also loaded to the max, with a passenger and camping gear, so we're only carrying 30 gallons of fuel. Plus Karla is limited in how long a leg she can go, so we may need to make 2 stops instead of one. The 30 gallons is enough to go far enough to make only one stop.

We went at 8500 over the clouds and got to the first planned possible pit stop, in Hazelton, PA. This was the first stop if we needed to stop twice. Karla said she did not want to stop, so we pressed on to the halfway point, Winchester, VA, KOKV.

The staff at Winchester was super nice. Karla got to use the facilities, and we gassed up. Off again. Even hotter, now early afternoon. We were in the air at 8500 again for about half an hour and the clouds ahead were getting pretty tall above us, so I went down to 4500 and under the clouds. The ceiling continued to drop through VA and into NC. By the time we got adjacent to Charlotte, the clouds were pretty low, as were we, and visibility was worsening, but still VFR. We flew through a bit of light rain. The gray ahead parted enough for us to see as we penetrated it. We pressed on with occasional showers on either side of us, but we went around them.
We continued on and entered the procedure for landing at Triple Tree. I guess no one was expecting an arrival then, because we flew the midfield crosswind and no one had spoken to us yet, so I got on the radio and said, "hey, you guys want me to turn left or right at the downwind?" Then someone came on the radio and had us do a right downwind for runway 21. They advised us to land short because the place was sopping wet, especially down toward runway 3. Apparently a big storm had just hit there before we arrived.

A nice person in a golf cart directed us to our camping area. The spot turned out to be a long way from the action. We did not much care at that point. We were just glad to be there. Out we got, onto soggy ground. I took care of the plane while Karla hitched a ride on the golf cart to the registration desk. It rained lightly for a little while after we landed. Karla got the necessary paperwork done, and more importantly, the meal tickets. We had not eaten a meal all day! We were more than ready to eat. We had been in the air since 9:30 and it is now 6:30!

A bit of info about this place: it is owned by one family, headed by Mary Lou and Pat Hartness. And here is a connection to us and that is, our plane is hangared at the Hartness State Airport in Springfield, VT! And, Pat is a relative of Mr. James Hartness in VT! Pat and Mary Lou recently donated the whole place to an aviation organization. They do a lot of a Radio Controlled planes there, too (during other weekends, not this one).

Anyway, the Triple Tree Aerodrome is quite remarkable and runs on a superb group of volunteers. There are a few food vendors for breakfast and lunch, and the volunteers put on wonderful dinners. The grounds are quite large (400 acres) and incredibly maintained. There is a fishing pond and miles of hiking trails. The bathrooms have nice showers, of which there are plenty, FLUSH toilets and granite counters, and are very well maintained. The 7000 foot grass runway is incredible. The fly-in is not open to the general public, making it truly for airplane folk. On our first evening there, we had the opportunity to meet Pat, and he is a true Southern gentleman and very humble. We also later met the very gracious Mary Lou as well.

We had a great pork loin dinner that evening and enjoyed looking over such a lovely place.

After dinner, we caught a bus back (the place is huge), and then it was time to set up the tent in the dark, with a headlamp. We got the tent set up in no time, and hit the rack. Fortunately, it was not raining while we were unpacking the plane and setting up the tent. When we landed, it was cooler than expected, due to the big rain that had hit before we arrived. It seemed to get warmer as the night went on. It was quite a warm, humid, still night, and hard to sleep. It also rained some in the night.

Wednesday, we got up early for breakfast. It was overcast and mild, but it got very steamy as the day went on. Karla relaxed on a veranda with rocking chairs. I hung out for a few hours at the control tower, watching them process arrivals and departures. It's really cool to be able to watch ATC in action; something we can't do after 9/11/01. There wasn't yet a large amount of traffic. In the mid afternoon, I took a cold shower to try to cool down my core and beat the heat. It helped.

I signed up to be a volunteer, but I guess they had enough, as I was not needed all week.
We also met an interesting guy, Kent, who flew in from Cambridge, MA. It turns out he has been a master carpenter and showed us pictures of a interesting table he built for a client in a condo in Boston. It was built like a puzzle and broke into 5 separate tables when not needed as one large dining room table. Very unique!

The weather continued to include lots of clouds, but sunshine galore as well. For Wednesday supper, the meal was a fish fry and darn good too, even for Karla, a non-fish eater. The meal also included fried shrimp, hush puppies, baked beans, coleslaw, and watermelon for dessert.

Each night in the tent was hot, humid, and very still. The bugs weren't as bad as we would have thought.

Each day included a mid-afternoon cold shower to try to cool down some, and lots of hanging out in the air conditioned building, as well as having some great ice cream. We had a different flavor each day.
At lunch we met a couple who volunteers at Triple Tree and are remote control aircraft enthusiasts. They were helping at the "cook your own steak" dinner in the evening.

Thursday was cook-your-own steak night. The tables were set up outside the hangar and soon the steaks came out. A long table held nothing but steaks. We each chose our steak and then on to the grills. Dozens of huge grills! I cooked our steaks, and they were good, as were the sides; salad, sweet potato with a crunchy topping and banana pudding for dessert.

Again, we met some wonderful people at our table. We chatted about our experiences. We also met another very interesting fellow, Claude, from Apex, NC. He had, unfortunately, lost his wallet (which later showed up). All was well.
We met a most interesting young man, Ted, who has an RV, and we chatted several times on the veranda in the rocking chairs. Most people we met are from the southeast, although Kent came in from MA and we met someone else who'd flown in from Chicago. We are the longest distance travelers we met there. As I also thought on my 2015 trip here, the Triple Tree fly-in is more of a southeast regional fly-in than a national one.

Then we noticed outside the a/c building we were in, these cubes that changed colors were flying around via radio control. We went outside and watched awhile. We talked to the young man who had invented them with his father. They're ingenious little radio controlled planes that look like flying lampshades. The cubes were amazing and manufactured on the kitchen table by a teenager and his dad. The teenager said they had the procedure down so they can make one in two 4 hour days.

We were also regaled by LED-outlined RC planes flying around after dark most nights. Triple Tree is also a place for remote control enthusiasts. Triple Tree also hosts the biggest RC event in the world (The Joe Nall). The interest runs deep with the Hartness family. This yearly event draws experts from all over the world. They do encourage spectators, but the runway is closed to all pilots.
On Friday, I called WXbrief to get an outlook briefing to see if we should leave Saturday or Sunday. I didn't even get a brief - after I gave the route, the briefer just scoffed and said "VFR??? You're not going north VFR for about a week." Well!

Friday night, the menu was called "Taste of Triple Tree". Each person gets to taste about 15 food stations of all sorts of great local food. What fun! Each station serves different regional foods like black eyed peas and incredible smoked ham, fried chicken, fried okra, fresh corn on the cob, clam chowder (it was excellent!), fried shrimp, roast beef, pulled pork, and hush puppies, and a lady made ginger bread and topping in mini Mason jars. Each item was presented by a local business specializing in that dish.

We got to meet Pat Hartness' cousin, Topper, who told us very interesting stories about the dinners (all cooked by volunteers). Topper also talked and gave a great overview and history of the family, etc and their interest in planes and RC planes. Before we knew it, it was well past midnight and time for bed.

Saturday was indecision day; do we leave or do we stay. All that was on most pilots' minds was weather. Many people left, but many stayed. Decisions, decisions. Saturday is also seminar day at Triple Tree, so that too played into the decision to stay put. There's no fuel at Triple Tree, so we knew we had to gas up within an hour of takeoff. Finally, the decision was made to stay and enjoy our last day at Triple Tree, including a very good seminar on the history of Triple Tree Aerodrome and the plans for the future. It was very enjoyable.

The heat and humidity continued relentlessly. Saturday night, the last dinner was a barbecue with pulled pork, chicken, baked beans, coleslaw, bread, and at the end of the line, a bowl with 6 jumbo shrimp and a small container of spicy cocktail sauce. There was so much food, we could not even begin to eat it all. Again, it was served outside and once again, we were uncomfortably hot and sweaty. Even the locals and other southerners said it was unseasonably hot.

After dinner we sat outside on the grass looking over the man-made lake and watched people fishing in it and watched the kids playing. Triple Tree is truly a lovely spot.

Once back at the lounge, we checked the weather yet again, and I decided we needed to leave early Sunday.
Then the campfire began and we went outside to enjoy s'mores and chatted with a delightful couple who give hours and hours of volunteer work to all the major fly-ins. We felt lucky to have met so many wonderful people over the course of the week.

On Sunday, we got up around first light and started packing up the campsite. We decided to throw the tent in the trash, rather than haul its weight and bulk back to NH. The old nylon had torn open near the door and I had patched it with some duct tape I scrounged, but it didn't stay stuck well.

We were among the first departures. Like my first departure from Sun N Fun, at first I had a problem with the windscreen fogging up with condensation as soon as I removed the canopy cover, but I kept wiping it down until it stayed clear. I knew from my Sun N Fun near-disaster to not try to start up until the windscreen was staying clear. There were about a dozen planes ahead of us in line to leave, and they were launching every few seconds, so we weren't in line long.

We left Triple Tree around 8:15 and got to Shelby, NC a bit past 8:30. I refueled the plane and went into the building to recheck the weather north of us. It was poor, with low ceilings, all the way from just north of Shelby up into New York, so we decided to stay. Being Sunday, there was no rental car office open, so one of the local pilots gave us a ride to the motel. At least we got out of Triple Tree! After Sunday morning, there would have been no more services there. At Shelby, at least we had a real bed, restaurants, and air conditioning, plus we were fueled up for as long a leg as Karla could stand.

Monday was another frustrating day. First, the ceilings were very low there and all the way from Shelby to northern VA, plus it was lots of rain north of that. Plus Hurricane Florence was now heading for us.

And, of all things, just to add to the challenges, some huge world class equestrian event was moving into nearby Tryon, NC, and the hotel was full Tues/Wed night and double prices every other night. So we had to be out of here by 11:00 am Tuesday.

We booked Tues/Wed at another hotel about 25 miles from there, plus we booked rooms in the present hotel for several more nights beginning Thurs, should we need it with the threat of a hurricane.

We got a rental car and decided to ride around some back roads, which we both enjoy doing when we are traveling. We then toured downtown Shelby. Nice little city, several empty businesses in the downtown district, as has become so common in America. We were amazed at the number of ramshackle abandoned houses we saw on our relatively short trip; maybe a dozen, both in town and out in the country.

Low ceilings again Tuesday after a quite rainy evening. We went over to the airport awhile and kept an eye on weather from there, just in case something opened up. But it didn't, so we went on to the next hotel.

So we were off to Forest City, NC for the next two nights. Since we had time to kill, we took a very roundabout route on back roads; sightseeing and enjoying ourselves. Again, we marveled at all the churches. I swear there is never more than a mile between churches. Often there are multiple churches at a spot, side-by-side or across the road from each other. Many churches are huge, as in multiple stories and taking up multiple acres, and look more like large institutional buildings. Some are small, many are made out of brick, as are many of the homes

Both on this trip here and on last year's road trip through the Carolinas, I was amazed that none of the road signs have bullet holes in them. When I came to NC in the late 60s to attend Outward Bound, as well as business trips I used to take to NC in the late 70s, every road sign along rural roads was riddled with bullet holes. Apparently it's no longer a local sport.

Eventually we ended up in Forest City, a charming town with hanging baskets of plants on the light poles and a small park with a fountain. We stopped for lunch/dinner at Moes Barbecue on the charming Main Street. The ribs were very tasty and we added marinated slaw and a sweet potato casserole as sides.

After lunch, we walked around Main Street. This is an active downtown, and it is nice to see a thriving, pretty downtown. We went into a genuine old-fashioned drugstore with a lunch counter, and had a shake.

The weather was frustrating and tantalizing all day. We saw tempting sucker holes in the thin low overcast, but then they kept closing up.

Tuesday night, I spent hours poring over the iPad trying to find a way to get us out of NC. Partly I was bored and partly I did it to get us home before the hurricane hit.

The coastal route, being the flattest, did not work because the ocean was churning up a mess, and if we got stuck again, we'd be that much closer to the hurricane. The western route meant climbing over the biggest mountains east of the Rockies, in less than ideal conditions. The middle route we used to get to SC had its own smaller mountains, and it was all IFR and LIFR. And Hurricane Florence continued to bear down on us.

Wednesday morning, little had changed, although it looked like there would be enough break in the clouds by 2:00 PM for us to get out of Dodge and head over the Appalachians . So, in the late morning, we left again for the airport in Shelby. This meant forfeiting one night's stay at the Quality Inn in Forest City. Oh well. Another big question was whether to try to go low under the clouds over the Appalachians, or go high over the clouds and then get back down on the other side. Tri-cities, Bristol, TN, KTRI, in a valley on the west side of the Appalachians, was reporting consistently good VFR. We just had to get there.

We left the runway at 2:20. Lots of tall clouds with gaps between them. I decided to go high. I had to spiral climb up through holes to 10,500 feet to get over the clouds and still, at best, it was spotty clouds above, below, and around us. Once we got to 10,500 feet, we headed west. It is a very surreal experience to fly through great mountains and canyons of white puffy clouds all around us. After we got over the mountains, we changed to a northerly direction, and so we came down to 9500 feet. We passed by two bright rainbows in the clouds!!! How cool is that? No pot of gold at the end of either of them.

Soon we were at our first stop, KTRI. It was only a 45 minute flight. We gassed up again and checked the weather again. We only needed a few gallons of gas. The main purpose of the stop was to confirm the airports ahead were still open enough cloud cover for us to get down there and land. If we were stuck there at KTRI, at least we now had the Appalachians between us and the hurricane. The weather check was good (enough), so off we went again.

We had planned to continue north and land at an airport at the corner of West Virginia, Ohio, and Kentucky (Tri-State KHTS), but once we had cleared the Appalachian foothills, the clouds were good, so we cut the corner and headed northeast. This cut off a couple airports we had planned to go over, and put us considerably further east than the original plan, although it added about 3/4 hour travel time. Our new destination was KLBE, LaTrobe, PA. We briefly considered flying even further, but by now it was 6:30 and Karla was ready to land.

At first we thought we landed in Hicksville, as the airport does not have a single tie-down in the entire airport, which I was not at all pleased to hear. I never heard of an airport with no tiedowns, especially a Class D like this. So we just chocked all 3 wheels and hoped we didn't get any big winds overnight.
We quickly learned this is an interesting place. The airport is named the Arnold Palmer Airport, and he even keeps a jet at the airport, this being his hometown. The lineman told us about a good hotel nearby, the SpringHill Suites, a Marriott hotel. It is on Arnold Palmer Drive, next to Arnold Palmer Airport, and is partially owned by Arnold Palmer, with a world class golf course nearby. One of his Masters trophies, under glass of course, is in the lobby. Anyway, it was a great hotel with nice amenities.

The hotel also has a shuttle bus and if a destination is within 3 miles, it is free. After the shuttle came to the airport and picked us up, we checked in, then elected to go to a local restaurant within the 3 mile radius. It ended up being equivalent to a Friendly's at home, but another claim to fame here is that Latrobe is the home of the invention of the banana split, so we had to have one for dessert! They even have an annual Banana Split Festival, which they celebrated recently.

Latrobe is also the home of Mister Rogers and Kennametal machinist products. It's also the home of Saint Vincent monastery and college, which also hosts the Pittsburg Steelers practices. Latrobe is just east of Pittsburg.

Back at the hotel, we checked the forecasts for the rest of the trip home. It did not look good at all, so I went down and reserved another night there.

At least we were out of the heat, there was no hurricane danger, and we were away from the equestrian event taking up all the rooms and doubling their cost. We were in a very nice new high class hotel at a reasonable rate, with a free shuttle, and we were within one (long, for Karla) hop of being home.

On Thursday, we left the hotel midday, and took the shuttle to the airport to see what developed. If an opening came up, we wanted to be there and ready to go. When we left the hotel, we told them we were not checking out, and that we might be back, but we didn't want to give up our room until we were taxiing. We hung around the office at the airport for a couple hours, then got the shuttle back to the room. Late in the afternoon, conditions got pretty good, but by then it was too late to go.

I studied the weather diligently Thurs evening, and it looked like Friday was our best chance to get out. On Friday morning, after again reviewing the METARs and TAFs and every other weather I could get my hands on, it was time to leave. We were especially eager to leave, as we heard the hotel was booked for the weekend. We had breakfast at the hotel, which was surprisingly good for a hotel with a hot breakfast included, then took the shuttle to the airport again.

Ceilings in NH were expected to open as the day went on, while the ceilings at KLBE were forecast to be getting worse, so we had to time it just right, as I did not want to leave until I was confident I had a place to land in NH/VT. By late morning, we were barely able to leave, but we got out before the broken ceiling closed up entirely, and we went over the top. We were at 7500 up to the Adirondacks, then we had to go up to 9500 to stay above the clouds. It was mostly overcast & some broken all the way to the Green Mountains of central VT, then it was scattered to our destination and getting even better as the day went on. It was a rather boring flight, as there was nothing to look at but clouds below us.

So once landed, we were both happy campers. One small fly in the ointment, though. The old van would not start! Luckily, I keep a charger at the hangar, so by the time the plane was unpacked and we were ready to leave, the van battery was charged enough for us to get it to start. After we got to our house, there wasn't a single cloud in the entire sky! It had been raining here for at least a week.
In hindsight, we should have driven to Tryon, NC while we were stuck in Shelby, to see some of the equestrian events, but again, our goal was to get out of there and we were pretty distracted by that. We also had the added pressure of a hurricane bearing down on us. That was not fun. As it turns out, Shelby, NC, was spared the brunt of the hurricane. Other places, as you know; were not. We even watched one of the Tryon equestrian events on TV a couple days after we got home. The horses and riders were amazing.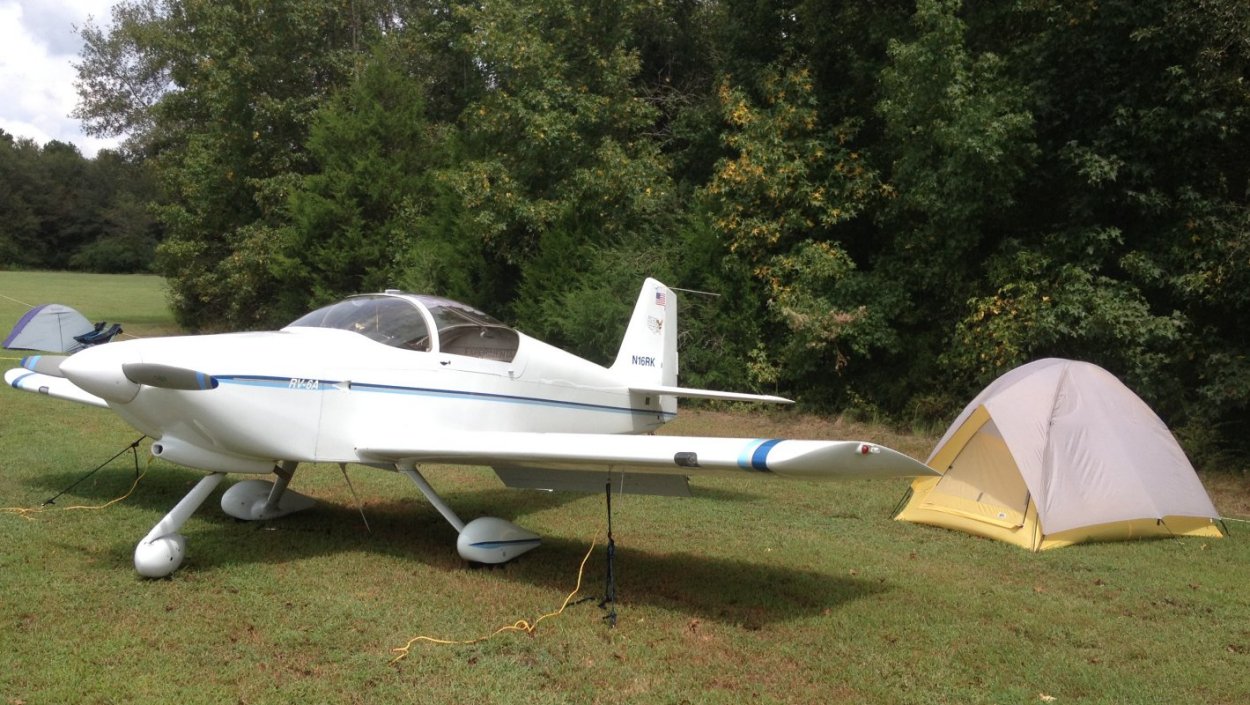 Here's our camping site at Triple Tree. Later in the week, the fields got pretty filled up with parked planes.

Here's our flight data:
KVSF - KOKV 2.7 hr
KOKV - SC00 2.7 hr
SC00 - KEHO 0.3 hr
KEHO - KTRI 0.8 hr
KTRI - KLBE 1.9 hr
KLBE - KVSF 2.6 hr


Other trip reports HERE

BACK TO MY RV BUILDER'S HOME

BACK TO BRIAN'S HOME