November, 2004 AVIONICS, ELECTRICS, & CONTROLS
Nov 5 - updated BMA list with info on altitude encoder info. Still getting conflicting info; guys on BMA list discussion say all I need to do is pass the biannual testing. Eckhard & Scott at the Portland FDSO say I have to do all the full TSO testing. I dunno. Probably the guys saying all I need to do is the biannual testing are right, but Eckhard won't go along with it. I could just install it myself, but I gave up on it in disgust and told Eckhard to go ahead with the damn Sandia encoder and be done with it. I've also emailed Eckhard and asked him to get the Sandia encoder and Garmin rack trays to me now. We're supposed to get together when I am home Nov 12-14.
Nov 15 - Eckhard muffed his chance to meet with me over the weekend. I emailed him again regarding when I will be available again, and asked him to just drop the trays off at my parents' house, if meeting with him is going to be so difficult. I haven't heard back from him yet on it.
Also, Gary Newsted just announced today on the BMA site that his fuel flow transducer for BMA EFIS & Subaru is available through Eggenfellner. While I'd much rather get it direct from Gary, due to all the hassles with Jan over the fuel pumps, I guess I am stuck having to order it through Jan. I wonder how long that'll take, and how many ways it'll be screwed up.
Nov 17 - emailed Dynon to ask where the heck my EFIS order is. I got a prompt reply that it should ship in another 4-5 weeks. Jeez! Oh well, I can't work on it right now, anyway. I also emailed Eckhard again (due to no response from him) to find out what is the big delay in getting my Garmin trays. He now says he doesn't have them all. He's been telling me for months that he has them all. I asked him to get them ASAP and then make a firm time/date to meet with me so I can get them. I hope dealing with him isn't going to turn problematic.
Nov 18 - Jan Eggenfellner says he is sold out already on Gary's fuel flow module. I am on his backorder list for the module.
Nov 19 - Eckhard says I need to order the SL30 to get the SL30 tray, because he doesn't have any, so I told him to go ahead with that. He thinks he'll have it by next Friday, so I hope to get together with him the weekend after Thanksgiving.
Nov 24 - got home & had received numerous parts orders, including the GRT EFIS ARINC-429 interface, GRT OAT probe, and Gary Newsted's fuel flow sensor module for the BMA EFIS.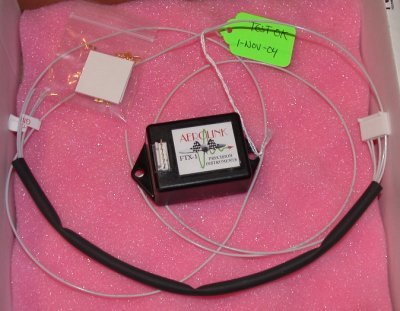 Here's the fuel flow module that Gary Newsted designed. It is a completely electronic measurement of the Subaru engine's injector pulses to determine fuel flow for the Blue Mountain EFIS/One.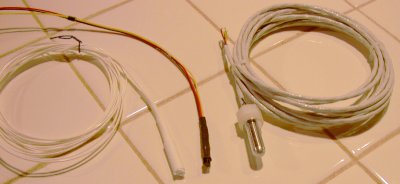 Now I've got the OAT probes for all 3 EFIS systems. The GRT is on the LT, BMA center, Dynon on RT.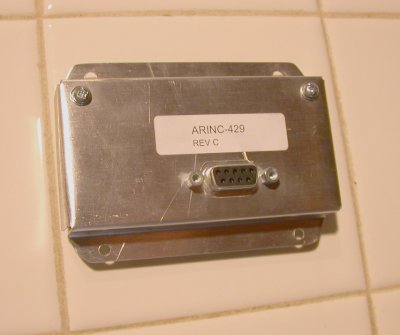 And here is the GRT ARINC-429 module, to adapt between the Garmin SL30 and the Grand Rapids Technologies EFIS.
Nov 28 - Eckhard came by the house with my SL30, Sandia encoder, and Garmin trays. He's interested in off-grid, alternative energy systems, so I showed him my off-grid power setup, including the new wind generator we put up yesterday. He also suggested I get with him before I buy antennas. He says that hidden antennas do not work well. He also asked again about what conventional instruments I plan to use (none). He is NOT accustomed to dealing with homebuilders!
Nov 29 - update web site 3.0 hr doc
go to DECEMBER avionics
BACK TO MY RV BUILDER'S HOME
BACK TO BRIAN'S HOME