OUR RENEWABLE ENERGY HOME
Click on any thumbnail pictures you're interested in, to see a larger version.
Use the BACK key to return to here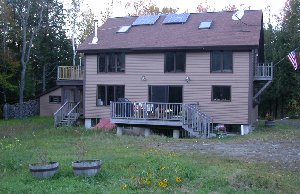 This is the south side of our solar- and wind-powered off-grid house, on about 50 quite secluded acres, surrounded by many tens of thousands of acres of nothing but trees. It's 1/2 mile past the nearest neighbor and the last phone and power lines.
The house is designed for efficient use of renewable energy, including passive solar heating. It has been oriented to face true south, with trees removed toward the south to get good sunlight. In the winter, the sun just barely crests the tops of the trees as it swings a low arc. This picture is the south side of the house, with all the windows we could fit in between the post and beam frame members. The east and west sides have some windows, and the north side only has one window. It is also very well insulated. The windows are all double-pane, argon-filled, low-e glass. The house shell is made of styrofoam sandwiched between sheets of plywood. The walls are 8" thick and the roof is 10" thick. The foundation, frame, siding, and roofing were done by contractors. Most everything else was done by me. I also added a steel building . My parents have been a huge help to me with all this.
Our electricity is made onsite from a system I bought from what is now called New England Solar Electric, which I designed and installed. I initially had solar electric only and a small inverter. In later years, I added a wind generator and installed it on a 135' tower I designed and built. For phone, we use a cell phone with a power booster and an external Yagi directional antenna on a 36' mast. For Internet access, we use Starband satellite Internet. We hate Starband, but it's our only option. We heat with wood I cut from our property.
Our property borders several hundred acres of my parents' land on one side, the 26,000 acre Corbin Park (aka Blue Mountain Forest Association) on another side, and about 15-20 miles of just trees, no houses, on the other 2 sides. I JUST LOVE IT!! This is an area that's so sparsely populated and densely forested, a Learjet plane can crash and not be found for 3 years.
HERE is an article I wrote in 1994 about the installation at that time. Several significant things have changed since then, mainly I now have the wind generator and two 4000 watt inverters, and I have a drilled well with a 220v water pump.
See my LOCAL page for more info and details about this area.
See Bergey's excellent and informative web site for more info on how you can get the benefits of wind power, whether you are on or off the grid.
MORE PICTURES:

1500 watt wind generator atop 135' tower

The tower from below, under construction in 1997

Aerial shot of the house under construction in 1991

Front view of the north side of our house and garage from the driveway

Fall picture of a lovely back road near my house

Elk herd near my house
My parents' house, the Lear homestead, in summer. My great-great-great-grandfather built this farmhouse in 1854. The main barn got into disrepair, and was torn down in the 1950s. A couple small lots have been sold off the original homestead over the years, and a couple large lots added in the 1990s. This is about a mile from my house, and it's on a "main" road. That's Mount Ascutney, Vermont, in the background.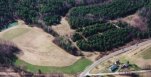 Aerial view of my parents' house and nearby property. Top of pic is east, and my parents' land runs about a mile east, out to my property.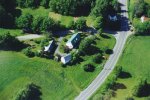 Another aerial view of my parent's place, taken with me flying, shortly after I got my Private Pilot license in 2002. This view is taken about 180 degrees from the picture above this one.

Flowers, trees, and goldenrod outside my house

My road in winter

Fall foliage around my house

Plowing my driveway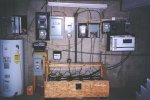 Main Control Center at Meyette Power & Light Co. This is the Stage 2 setup, installed in 2000, with the new Trace 4024 4000 watt sine wave inverter. This Center has constantly evolved since I installed it. I keep adding capacity and features. Stage 1 had a much smaller, 2500 watt non-sine-wave inverter.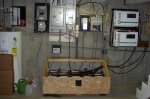 This is Stage 3 of the Meyette Power & Light Co, in 2001. The second 4000 watt inverter gives me double power and 220 VAC capability. This is probably the last stage. Click HERE to see a large, annotated copy of this picture.

DEC 1, 2004 - the World Power Technologies Whisper 1500 watt wind generator bit the dust. I had replaced the blades and done an overhaul on it last fall, but I looked up at it Sept 9, and something had broken and the power head tipped forward and ran the blades into the tower top. I knew I couldn't repair or replace it, because the spare blades I bought last fall were the last ones in the world.
WPT was bought out by Southwest Windpower several years ago, and Southwest immediately dropped support for the WPT models. Southwest Windpower's customer service is terrible, so I knew I didn't want to buy any of their products. Bergey has a good reputation, so I called them, and was put in touch with a local dealer in Vermont. That dealer (Central Vermont Solar and Wind) had horrible responsiveness, so I mostly dealt directly with Steve Wilkey at Bergey. Steve was great to deal with; very helpful and responsive. I'd NEVER do business again with Central Vermont Solar and Wind.
It took just short of 3 months to get a new Bergey. I finally got the new wind gen just before Thanksgiving, and we put it up while I was home from a gig, on the Saturday after Thanksgiving. I was disappointed to find out that the Bergey XL.1 is made in CHINA, but it does have a 5 year warranty, so I am hoping for the best. The Bergey also rectifies the voltage at the generator, while the Whisper did it at the controller. If a rectifier fails, it means paying someone to climb the tower and replace it. I had to replace several rectifiers in the Whisper controller, so I am uneasy about rectifier failures in the Bergey.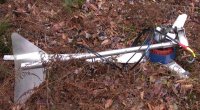 Here is the broken Whisper after we lowered it to the ground. 2 blades broke off when the generator furling pivot housing broke and ran the blades into the tower.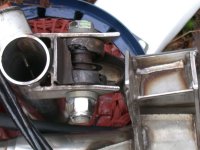 This is the detail of the weld that broke on the generator, causing it to fail. The weld attaching A and D together apparently failed, causing the underlying bearing case B-C to tear and the whole thing then twisted and put the blades into the tower.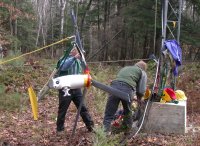 This is us pre-assembling the Bergey 1000 watt XL.1, as it hangs from the tower for support, before raising it to the top of the tower. It's a lot easier to work on the ground, so we put it all together, including its wiring attachments, before raising the whole thing all at once as a unit. The base of the Bergey was bigger than the old Whisper, so I had to fabricate an adapter to go between the tower top and the Bergey. The tower is now a couple feet taller than it was, due to the adapter. In the pic, the tail is tied in the furled position for the raising.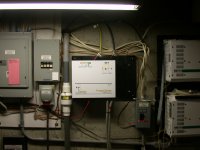 This is the new Bergey controller installed in place of the Whisper controller and Enermaxer load controller. I didn't want to have to replace the Enermaxer, but Bergey says you get much better performance at low wind speeds by using their controller, so I installed it. It is apparently designed for use by people who know nothing about it, as there are no switches or controls; just simple LED indicators. The float voltage is factory-set at 28.0 volts. For this setup, I am using 2 of the 3 leads that were used for the WPT Whisper 1500 (yellow & black leads at the top of the controller).
It was fairly calm all day, while we installed the new wind gen. Shortly after we finished it, the wind started picking up, and the generator worked great. Even though it's supposedly a 1000 watt generator, Bergey claimed it would put out as much as my Whisper 1500 watt generator. The wind was screaming that night, and I actually saw a peak of 65 amps coming into the batteries. The most I ever saw from the Whisper was about 57 or 58 amps. Theoretically, 1500 watts is 60 amps at 25 volts. So I don't know how the 1000 watt generator is giving me 65 amps, but I am not complaining. I've been without a wind generator for nearly 3 months. It's great to have wind power again!
Dec 13 - After having the Bergey up for a couple weeks, it seems to be working OK. Not only does this Bergey seem to outperform the Whisper at the high end, it also outperforms the Whisper at the low end. With the Whisper, the blades had to be spinning fast enough to be a blur, in order to get any current flow. If the Whisper was spinning slow enough that I could see any individual blades, it wasn't making power. The Bergey is giving me 2-3 amps at wind speeds below what it took to get any current flow with the Whisper.
Jan 17, 2005 - hired Neil Hochstedler to climb tower, check bearings, operation, and general condition. Retorqued all tower mount bolts and blade bolts. All OK.
Oct 5, 2006 - wind generator is still going strong - no problems at all. For details on wind power and Bergey's offerings, see HERE. They also offer good overviews here.
Sept, 2008 - the rectifier died, so I had to hire local rigger Neil Hochstedler to do a tower climb. Bergey supplied the new rectifier at no charge.
Last updated February 25, 2009
BACK TO MY RV BUILDER'S HOME
BACK TO BRIAN'S HOME