Click on any thumbnail pictures you're interested in, to see a larger version. Also see my motorcycles page for info on motorcycling interests.

Use the BACK key to return to here

A beautiful GPz750 I had awhile in CA, before it was stolen

Riding one of the last great Barstow, CA to Las Vegas, NV desert races, 1989. See here for the whole sordid story of how the entire East Mojave (including the Barstow to Vegas race) was shut down by the constant shrill complaining of the radical environmentalists.

Mom & Dad & me at NHIS race track 1998

Vintage Racing with Jerry Wood at NHIS 1999

Leading the pack NHIS 1998

My first 1st Place trophy at Bridgehampton Raceway, LI, NY 1997

Being chased by Frank Gerhard 1998

AMA National Champion plate I won in Sept 1999

Attending California Superbike School early 80s

Speedway racing in CA early 80s

After finishing a desert race, Mojave Desert, CA early 80s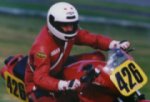 Leading a wire-to-wire win at Pocono 1998

Another 1989 Barstow To Vegas race pic

Racing my new EX-500 1999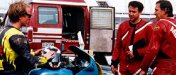 B.J. Worsham queries fellow EX-ers Matt Lai and Brian Meyette about point requirements to become a "red leather boy".

Hangin' out with some of the bikes - Fall '97
RACE HAULER PICS: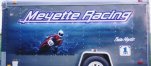 New race trailer paint job

Race trailer & hauler van

Closeup of rear of new trailer paint job

2 trophies - 1st weekend as an Expert in 2000!

A cold morning practice early 2002 on the MZ

Turn 10 at NHIS on the EX

Turn 3 at NHIS on the EX. I can't believe I paid good money for this crappy picture. Fortunately, she's no longer doing photography at NHIS.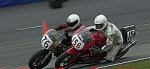 Passing Nick Rockwell in Turn 11
HERE IS SOME OF ROBERT DAHL's EXCELLENT PHOTOGRAPHY:
April 2, 2009 - the pics that these Robert Dahl thumbnails refer to seem to have all vanished from my hard drive. I'll have to see if I can find the original CD from Robert somewhere & repost the full pics.

The Production Twins starting grid

Turn 10 at NHIS

Passing Micky on the outside in Turn 6

Crankin it through Turn 3

One of the few times in 2002 I led PTWN

Coming out of T2 with Micky hot on my tail
Here's a great shot from fellow PTWN racer Edgar Muller: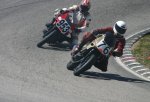 Me and Uwe Gomringer, racing LWSP, May, 2004. We were never more than this far apart the entire race, passing each other several times, and I ended up beating him by about a foot at the checkered flag.
Here's the Production Twins mafia, from 2003: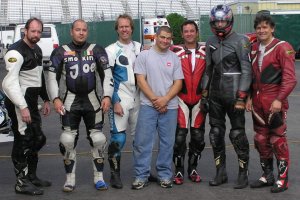 Micky Curry, Smokin Joe Latona, BJ Worsham, Glen Piro, Edgar Muller, Dana Temple, Brian Meyette. Click for full size pic.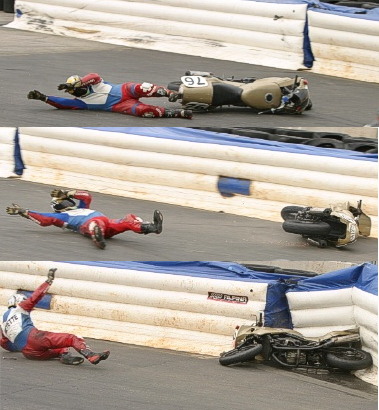 Here's a series of pics someone got of my crash in lap 1, turn 3 at the June 18, 2005 Production Twins race at the Nationals.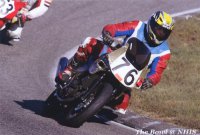 In Turn 6, The Bowl, at NHIS, September, 2005. Pic by Roger Schleicher. Uwe on his new Ducati in the background.
Last updated Sep 12, 2005
BACK TO MY RV BUILDER'S HOME
BACK TO BRIAN'S HOME