MOTORCYCLES
See my motorcycle pictures HERE

DIRT BIKES - 4-strokes; don't like those loud, yappy 2-strokes. I have several Honda XRs & XLs of various sizes (100, 200, 500, 600, 650). I like to ride Dual Sport events around New England. I also like just getting out on Class VI roads and on various trails to explore. I am a member of the New England Trail Riders Association NETRA .
STREET MOTORCYCLES - My main street bike is a 1983 Honda CB1100F. I haven't even taken it out of the shed for the last several summers, though. I've been too busy working, racing, and building my plane. I have long been a motorcycle enthusiast. My first motor vehicle, in 1970, was a motorcycle; a 1962 Triumph Trophy 500 twin with the sweetest-sounding shorty pipes you ever heard. Mainly due to its mysterious ignition system, it was NOT running more than it was running. I haven't been without at least one motorcycle since then. I'm not real sure just how many motorcycles I have now, but it's quite a few.
MOTORCYCLE DESERT RACING - not much of that in NH, though! I did this rather extensively in the late 70s/early 80s. I started out racing middleweight class, with my new 1979 Honda CR250R, then I moved up to big bore 2 strokes, then big-bore 4 strokes. Just going to the desert to ride, shoot, and hang out is such a blast! SoCal has incredible places to ride in the National Forests, too. Unfortunately, the radical environmentalists have forced the closure of many of the great trails and places to ride, and forced everyone into ever-shrinking and ever-more-overused riding areas. See here for the whole sordid story of how the entire East Mojave (including the Barstow to Vegas race) was shut down by the constant shrill complaining of the radical environmentalists.
I rode several Barstow to Vegas races, including 1983, when the race was reintroduced, and 1984. Prior to 1983, I rode the "Phantom Duck of the Desert" "non-races" along the old B-V race course a couple times. In 1989, I rode the B-V with my friend, Julie Kay Baughman, on her first desert race. She finished and I didn't; my XR500 blew out an oil seal, and I barely made it to a pit stop. I think that was the last time the B-V was run. After that, I moved to NH in 1990, and the environmental nuts got the race shut down again.
In May, 1999, I took a dirt bike trip in Baja, Mexico. That was great fun! I went with my roadracing buddy, Allan Hodges. We spent 4 days riding along parts of the Baja 1000 race course, including a trip to San Felipe. It was late in the season, and rather hot, but I didn't mind it. Also, we lucked out by having a very small group. I don't think it would have been as much fun with the more usual 8 or more riders. There was a LOT of dust, even with just the 4 of us. It sure was fun to flog that big XR600 WFO on the Mexican roads! I only crashed once! The trip included a trip up to the famous Mike's Sky Rancho.
In the spring of 2001, I was working an Oracle contract in Calabasas, CA (home to Erin Brockovitch & former home of the Menendez Brothers), so I bought a used XR650L for desert riding on the weekends. I got the engine totally hopped up by Al Baker's XRs Only in Hesperia, and it runs very strong. I had several wonderful rides out in the desert before the contract ended. In one way, it kinda sucked, though, because so many former legitimate, officially-recognized riding areas are now off-limits or greatly restricted. The BLM has a huge bureaucracy out there now. They've got a sign on every trail; open or closed, mostly closed. The only remaining riding areas are so compressed, they are absolutely BEAT to death. Huge areas where I used to camp and ride are now closed to everything but the SCBs (Sierra Club Bastards). I keep the 650 stored out there now, so I can use it when I go out there annually for vacation. Karla and I have a super great time riding, mostly in the low desert (Anza Borrego State Park) because we usually go in about March, and the high desert is still rather cold then.
In November, 2005, I rode the LA-Barstow to Vegas dual sport ride on my XR650L. I didn't finish, cuz I got lost, then all tuckered out, but it was a blast. I won the prize for the USA person who had traveled the furthest to attend the ride.
MORE MOTORCYCLES - I have also dabbled in motocross, hare scrambles, enduros, turkey runs, and speedway racing. I took Russ Darnell's motocross racing school at the famous Saddleback Park in Orange, CA before it was turned into yet more houses and condos. That was in 1979, and I had a brand-new Honda CR-250R, one of the very first ones released! In the early 80s, I took Mike Bast's speedway racing school at Ken Maely's lovely ranch in Corona, CA. In roadracing, I still make good use of the start line techniques taught to me by Mike for speedway.
I've been riding motorcycles since about 1968, when I used to borrow a friend's little Honda Trail 50 and buzz around back road trails. When I was in the Marine Corps, I received training to become a Motorcycle Safety Foundation (MSF) safety instructor, as well as a Combat Motorcycle Instructor, for part of my time there. See my USMC EPILOGUE page for more details.
MOTORCYCLE FLAT TRACK RACING - This is something else I wanted to do for many years. Beginning with the middle of the 2000 season, I started doing flat track at the local Jolly Roger track, and having a SUPER time of it. I finally found an XR100 to start doing this. I got a couple trophies my first time out, and I won the rookie race on my second weekend at it. I ride the Adult 100 class and the 125 class. I liked the first event so much, I had my XR200 modified to compete in this type of racing, too. Pics coming soon!
MOTORCYCLE ROAD RACING -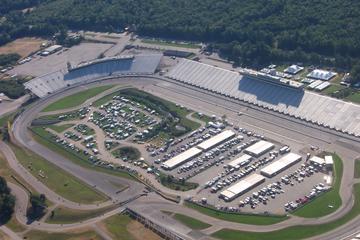 For info on the Loudon Road Racing Series (LRRS) in New England, see link HERE
Here is a FAQ on motorcycle roadracing. HERE is a roadracing beginner's guide by Valentino Rossi. See HERE for info on local motorcycle roadracing. This is something I've wanted to do since the mid-70s, when I used to go up to Bryar Motorsport Park (now NHIS ) in Loudon, NH. I couldn't possibly afford it then, and I was too busy with other stuff, like desert racing, while I was in CA in the 80s. I took the Penguin roadracing school in 1995, but couldn't afford to buy a race bike because I had recently purchased some more land around my house. In 1997, however, I decided I was going to do it whether I could afford it or not. I was given a 500cc Honda Ascot single, and I took the Penguin course again, and started racing with that. It was stone stock and embarrassingly slow, but I learned the basics OK with it. People would easily pass me on the straights, but I'd catch them in the corners.
I also had the pleasure of riding 3 events during my first (1997) season at the great (and very fast) track at Bridgehampton, Long Island, New York. After a long struggle to remain alive, it finally succumbed at the end of 1997 to the classic "move in next door to an airport, shooting range, or racetrack, then bitch relentlessly about the noise" syndrome. In this case, the neighbors were New York and Hollywood's rich & famous at "The Hamptons", so the track was doomed. Now it's a golf course for them to play on. The track's neighbors used to have a "bitch alert" system set up, so that people who weren't even there at the time could call up from Manhattan or Hollywood and complain about the noise whenever there was a race. Infamous is the time they heard there was a RACE that weekend, and activated their alert system. They sent the police out to the track to do something about the terrible noise and when the police got there, they found out it was a BICYCLE RACE! Of course, no arrests of the rich & famous for making false police reports. Rest in peace, Bridgehampton!
At the end of the 1997 season, I got a 1989 Kawasaki EX500 twin, so I started racing that in Production Twins and a couple other classes, like Lightweight Sportsman and Lightweight Sportbike. After spending over $2K on a maximum performance rebuild of the Ascot motor, then exploding it the second weekend I had it at the track, I began racing only the EX and doing better at it. I won several firsts and seconds, and led several others until I crashed.
I had a great season in 98 and moved up to the Junior class for 99. As with '98, I had kind of a slow season in the first half, but by the second half, I had dropped another 5 seconds off my lap times, and was winning regularly. I also got a new '95 EX500 in May, 1999, and by July had turned it into what one competitor termed a "state of the art Production Twins racer". I also did many more mods to the trusty old Ascot, including an F3 front end, F3 rear end, and Michelin slicks. For all the effort and cost, it goes about as fast as the stock EX! But it's fun to ride. In September, I won the AMA National Championship in the Junior Production Twins class on the new EX500. I am quite proud of that. It was a most excellent race, particularly against fast newcomer Todd Babcock.
For 2000, I was bumped up again, to Expert, as were all my fast EX buddies from the last couple years. At the season's first race in April, I did much better than expected, and finished the weekend with a Second in Production Twins and a first in the Class Championship race in Masters.

Click here to see an EX-500 racer's (mine) point of view on the April 2000 event

Click here to see my writeup of the May 2000 event
Oct 2001 update: sadly, the season is over. I am now a seasoned expert, with coveted 2 digit race number, 76. Over the season, I had some great moments and some screwups. I rode very well at times, and I rode poorly at other times. I won a couple Masters trophies. I blew the transmission in the Ascot, so I traded my ATK 600 flat tracker for an MZ 660 single. It turns out it's a dog in stock form, so I getting cubic dollars worth of engine work done to it over the winter.
Sept, 2002 update: It's been a crappy season for me; only one 5th place trophy all year. I used to be a top 5 contender, but not this year. For one thing, the weather has been TERRIBLE. The first event in April was about 34 degrees and raining. May wasn't much warmer, and still raining. June was quite cold and raining. July was about 100 degrees. Weather like that doesn't exactly entice me to want to suit up and go out on the track to practice. I've skipped many practice sessions because of the weather. I'm also too cautious in traffic. And mainly, I haven't gotten any faster, and my competitors have. I am 3 seconds off the winning times. At this level, 3 seconds is a huge amount of time. So, being in the second 5 is not as much fun as being in the top 5, although it is better than the third, bottom 5. My MZ engine performance rebuild over the winter was quoted to me at $3500 by Galen Miller's Bikeworx, and he charged me $6000 (for a ONE cylinder engine!) after dicking around on it for a full 6 months, so I am not too keen on Galen any more. Galen screwed me a couple other ways, too. The MZ is no faster, and less fun, than the stock EX. I'm trying to sell it at a huge loss, but no takers yet. I still love roadracing, though. HERE are some pics from the season.
Nov, 2004 update: I sold the MZ to Bob Poetzch this spring. He has done quite well with it. In 2003, I only made it to 3 events, and I really sucked. This year, I sucked so bad, I was VERY tempted to quit racing. Not only was I no longer a top 5 contender, I couldn't even keep up with the second tier, and spent most of my time dicing for last place. My best lap times were at least 6 seconds off the winning pace, and 3 seconds slower than I used to run. I was still running on my 2002 tires this season (cuz I was going so slow I wasn't sliding them), and I think that affected my confidence. Toward the end of the season, I got new tires, made some suspension changes to help the bike turn quicker, and fixed a huge flat spot in the jetting. By the last event of the 2004 season, I did MUCH better than I have for the last 3 seasons, including a final finish in Production Twins a full 2 seconds better than my best lap times ever. I am eager for the 2005 season to start (in 6 long, cold, dreary months).
Nov, 2005 update: Due to no longer being a top contender at roadracing, and with my aviation and aircraft building interests competing for my time, I decided to not renew my license for next season and I sold my EX500 race bike. It sure was a blast while it lasted. When I first started, I was very happy just to be racing at all, but after being a top-tier contender, it's just not the same to go back to dicing for last place.
2007 update: NHIS got sold to some NASCAR guy who has renamed it NHMS New Hampshire Motor Speedway. They seem to be still supporting motorcycle roadracing there, though

Click here to see the racing page of my EX-500 roadracing buddy, Edgar Muller. His bikes were always the cleanest of anyone's.

See my motorcycle pictures HERE

HERE is a Motorcycle Safety Resource Guide

HERE is another page on motorcycle safety

See HERE for the Motorcycle Safety Foundation (MSF) web site - I HIGHLY recommend their courses to all riders - new and experienced
page created as separate page Feb 4, 2005, last update July, 2011 - cleaned up links, added Safety Resource Guide
BACK TO MY RV BUILDER'S HOME
BACK TO BRIAN'S HOME