ENGINE WORK June, 2008
June 8 - 2 more Eggenfellner STi customers announced that they will no longer attempt to get their STi flying, and they'll be going to a Lycoming, even if it means just walking away from all the money & time they've put into trying to get the STi to work. ITMT, I am doing very little on the plane. It's hard to get motivated. I am slowly working on getting a new throttle body for the engine, so I can proceed with swapping out the ECU provided by Eggenfellner. I really hate to start dismantling a running and completely secured/finished FWF, but I suppose I have to do it, to end up with something that won't crash.
June 27 - got the new manual Throttle Body from John Moody in Australia. I hadn't been able to find one here that fit, and John had found a good fit in Australia, but it was from a RT-hand drive car, so John sent me 3 of them to distribute to other STi customers.
June 29 - Fellow STi victim Randy Crothers came by for a visit. It was great to meet him! We looked the plane & engine over & talked quite a bit about what we're doing & how to solve our problems. We ran the engine awhile. I gave him one of the TBs. After he'd left, my conversation with him motivated me enough to start getting ready for the new SDS engine computer (ECU) and manual TB. I REALLY hated to tear into what had been 100% complete and ready to fly, but I just can't trust what I have. We have a new expression for what we're doing - we call it "De-Egging" the FWF, where we remove all of Eggenfellner's mistakes and poor designs, and make things right. So, I removed the intercooler, as well as many dozens of tie-wraps securing the wiring harness and everything around it. I also removed the electric Throttle Body, and started planning for how to install the new cable-actuated one. 2.5 hr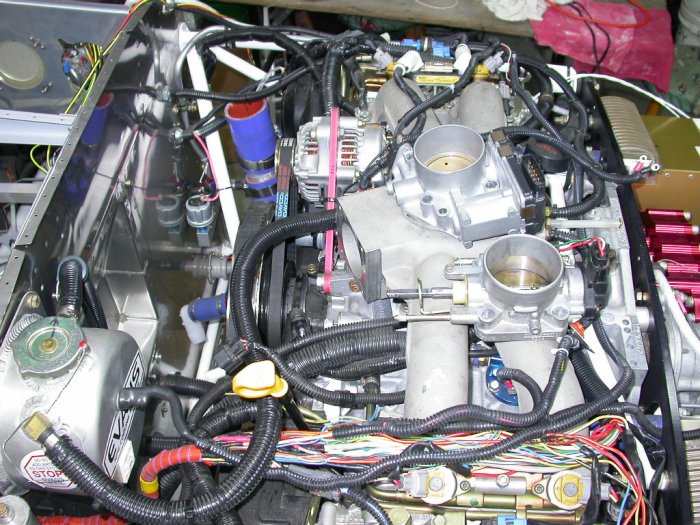 Here's the engine after spending a couple hours removing the intercooler and original electric TB, and de-securing some of the wiring harness. Old electric TB sits behind the new manual one on top of the intake manifold. Note the hole Eggenfellner drilled in the electric TB butterfly plate - complete with burrs hanging off it.
June 30 - more Eggenfellner wiring harness dismantling. Cutting LOTS of tie-wraps and wiring harness lacing thread. Removed ECU, injectors, intake manifold, supercharger, and SC pulley. It's heartbreaking - I spent hundreds of hours installing all that stuff so carefully. 3.25 hr
go to JULY ENGINE
BACK TO MY RV BUILDER'S HOME
BACK TO BRIAN'S HOME