ENGINE WORK February, 2009
Feb 1 - trim supercharger inlet mount plate 0.5 hr
Feb 2 - sent out detailed email to experts regarding my radiator options. After getting replies, decided I will definitely go with the larger custom radiators and not try to do the aft radiator. A key part of the decision is that Ross Farnham no longer recommends the aft radiator as the best solution. If the larger radiators don't get the job done, I can look into adding a small aft rad later.
Feb 3 - contacted Mac's Radiators again, ready to move forward on my order.
Feb 5 - still working out custom rads details with Sam at Mac's Radiators. Used 18mm spark plug thread chaser on bung for oxy sensor. Installed oxy sensor. 0.25 hr
Feb 6 - resume long-delayed work on SDS wiring harness. Disassemble SDS ECU box to change resistors to match my IAT & coolant temp probes. Install connectors for IAT & coolant temp probes & hook them up. 2.5 hr
Feb 9 - swap out resistors in SDS ECU motherboard to allow using the different IAT & coolant temp probes that Ross made up for me. Still trying to finalize a quote and order with Mac's Radiators. Randy Crothers is now interested in getting a set with me, which should help reduce per-unit cost. 0.5 hr
Feb 11 - reinstall SDS ECU. Work on SDS wiring harness & PLX ground & signal wires. PLX oxy sensor harness is WAY too long; 10' and I need about 2'. Called PLX about it & they said OK to cut & splice middle of harness. Shortened harness. 2.25 hr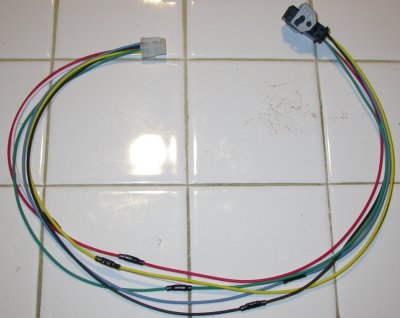 PLX AFR harness, shortened from 10' to 2'. I staggered all the splices 1.5" apart, so there isn't a big bulge in the middle of the harness.
Feb 12 - put corrugated sleeve onto PLX oxy harness & install. Splice & connect PLX signal wire. SDS/PLX harness is done. Just need to get some radiators & I can start the engine. Still trying to get radiators on order. Finally got price from Mac's Radiators, and they've greatly increased their price from the $450 they quoted me last October to $675 per pair now. A misunderstanding or perhaps it's because they now know it's for a plane? Sent email to Tech Welding in Kentucky for a quote. No reply today, will call Ed there tomorrow. Hooked up PLX-SDS AFR signal wire. 1.0 hr
Feb 13 - Called Tech Welding. No answer. Left message. If I don't hear from them by Monday, I guess we'll go with Mac's Radiators. I can't seem to get any good info from others on the subenews list about what ballpark these rads should cost - people who've bought them just talk in generalities when I ask about what it cost them. Looking at power wiring for ECU, coils, injectors. Pondering if I need to switch coils & injectors power, or if I can just leave them always-hot off the e-bus; sent Ross an email asking about it. Add DB pins to ECU warning LED circuit, to make it a quick-disconnect. Cut hole in panel for ECU warning LED & installed LED. Wired ECU warning LED into harness & connector. Harness cleanup, organizing, labeling. 4.0 hr
Feb 14 - got a prompt reply from Ross - he says the coils & injectors power should have a switch - too bad; I really didn't want to have to try to squeeze another switch into my perfectly-laid-out switches panel. Got a call from Ed at Tech Welding - I'd forgotten about the big ice storms in KY; he hasn't had any power or internet for a couple weeks (just like NH last December). I'll mail him the radiators drawings & pics or email to his son. More ECU warning LED wiring work. Pulled down switches panel and instrument panel for rewiring work to install a "coils & injectors power" switch. Removed 12ga wire feeding E-bus, so I can replace it with 10ga to handle the increased load due to SDS setup. 2.5 hr
Feb 15 - fabricated parts for SDS mixture knob guard. Ed Klepeis at Tech Welding says he got my drawings. 1.0 hr
Feb 16 - welded up parts for SDS mixture knob guard. I made 2 of them, as I thought John or Randy might like one. Then, I thought I'd "pretty" them up on the lathe; smooth the weld & square the bottom plate. Bad idea. Ruined both of them when the bit grabbed and tore the guard out of the (lightly clamped) jaws. I quickly made up a third one and welded it together, doing a better job than I'd done on the first 2. I'll be leaving it as-is! 1.5 hr
Feb 17 - still no word from Ed at Tech Welding on a quote for the custom radiators. Called & left a message.
Feb 18 - rewired essential bus feeds from 12ga to 10ga to handle additional SDS injectors & coils circuits. Wired ECU warning LED power. Updated wiring documentation. Still trying to decide what to do about putting a switch in the coils & injectors circuits. I could leave them as-is, fused & unswitched. I could get a DPST switch & squeeze that switch into the switches panel. I could get Perihelion's solid state relay http://www.periheliondesign.com/powerlinkjr.htm and wire that to the existing ECU switch. Pros & cons to each choice. After much thought, I decided to stick with how it is, at least for now. Reinstalled instrument panel and switches panel. Drilled lightening holes in ECU mixture control knob guard and installed it. Finally got a reply from Ed at Tech Welding. He's waiting for a quote from his core supplier. I'd like to get those radiators on order very soon. 4.5 hr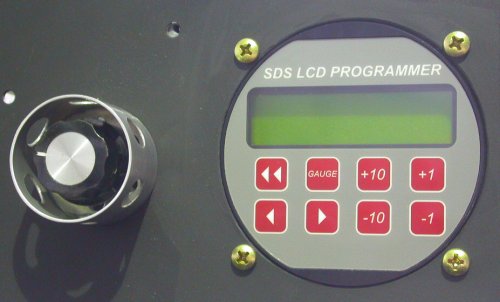 This pic is from the far RT side of my panel. On the LT is the SDS mixture control knob, with the knob guard I made. The SDS programmer/display is on the RT.
Feb 19 - Randy Crothers is having a lot of success flying his turbocharged STi with SDS ignition. Hi speeds and low fuel consumption. Very encouraging. I'd been thinking of considering going to 1 low radiator as recommended by a couple knowledgeable people on subenews, but after seeing Randy's results, especially considering he easily accidentally exceeded Vne, I think the plane will be fine with the higher drag radiator inlet design we have (and much less work). Securing engine harness & LT firewall pass-thru, made more difficult in some places by a missing finger. 2.5 hr
Feb 20 - redid one of the coil signal wires, as I noticed I'd done it in 20ga and the other was in 18ga. Don't know how I made that mistake. Organized & secured new engine wiring harness. Primed & painted mixture control knob guard. Still waiting on quote from Tech Welding. If he doesn't hurry up, we'll just go with Mac's. 4.0 hr
Feb 23 - still no reply from Tech Welding. Reactivated my RFQ & conversations from last fall with Ron Davis Racing Products. Ross on subenews is saying he's air-flow-tested the Ron Davis radiators, and they provide significantly less drag than others, so it looks like that's the way to go. Also, Mac's had been 1/2 the price of the Ron Davis radiators, but the new Mac's price ($675/pr) is now nearly as much as the Ron Davis price ($768) I got last Oct, so we might as well get what Ross said are the best ones. Ross also mentioned that he thought Mac's were usually less than 1/2 the price of the Ron Davis rads, so I don't know why Mac's are suddenly so much more expensive. Talked to Bill at Ron Davis & he will call me back tomorrow morning with an updated quote.
Feb 24 - finally got a price of $985/pr from Tech Welding for the radiators. The prices just go up and up. And everyone is busy as hell. I thought we were in an economic slowdown. Not much sign of it from any of the vendors I try to deal with, both in planes and in other areas (especially guns). We'll probably go with Ron Davis, especially after the high recommendations for them from Ross Farnham. The price of this laughable Eggenfellner "complete FWF" just keeps going up. Ross already has an air flow test bench for testing the air flow for various radiators. He is now going to build a test bench for testing how much each brand & type of radiator cools. Want to bet the original Egg radiators (not even real radiators, but modified oil coolers) finish way at the bottom of both tests?
Feb 25 - still waiting for that Ron Davis radiator quote. Emailed them again this morning; no response. A rare, beautiful, sunny, clear, calm, relatively warm (mid-30s) day, so I took a day off and spent most of the day flying around in the Challenger II until my butt ached too much to continue. Also called Ron Davis Radiators in the afternoon and left a message for Bill again.
Feb 26 - still no email reply or callback from Bill at Ron Davis. Called & left message again. Each of the three vendors we've talked to on the custom radiators is very slow to respond; I've spent the entire month trying to get the radiators on order. Put spiral nylon wire harness protector onto wires going through LT firewall pass-thru. Installed mixture control knob guard. It looks nice. More wiring harness securing. Old split eyeball for LT firewall passthru is drilled too large for fewer wires passing through it now with SDS system, so I drilled out a new eyeball I was fortunate enough to have laying around. 1.5 hr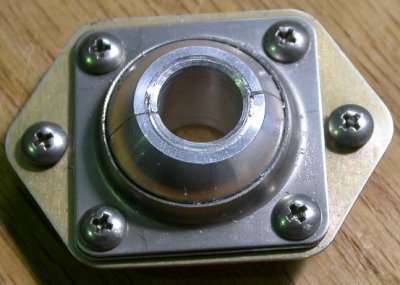 These firewall passthru eyeballs are great. The aluminum eyeball can be drilled to any diameter, or you can even get undrilled eyeballs from the mfg, so you can put 2 holes in it, as I did for my alternator & starter wires. You can get these from Aircraft Spruce as a "Spherical Metal Grommet" aka "Eyeball Firewall Assembly":. They also have models with a hollow steel ball (that you can't drill out much larger) and models that use one large hole in the firewall, rather than the 6 small holes you'd need for this style.
Feb 27 - called Bill at Ron Davis again. Actually reached Bill this time. He says he hasn't had time to look at the drawings & claims he will today & will call back this afternoon. I'll bet. Drilled firewall metal grommet to 29/64" and installed it. Tied up and secured wiring harness. 6.75 hr
Feb 28 - As expected, no callback from Bill at Ron Davis, as he'd promised. I hope Ron Davis radiators don't win Ross Farnham's radiator shoot-out, just so I can not give the business to Ron Davis after such poor responsiveness. More wiring harness lacing and securing. Worked on prepping & securing RT firewall pass-thru. 2.0 hr
go to MARCH, 2009 engine page
BACK TO MY RV BUILDER'S HOME
BACK TO BRIAN'S HOME