SOME OF MY MAJOR INTERESTS:
NATURE, CONSERVATION & FORESTRY - I love working on my tree farm, improving wildlife habitat, making and improving my trails network, getting firewood, and just being in the woods. One of my greatest conservation achievements was the 1991 implementation of an ordinance protecting Class VI (unmaintained public) roads from truck damage in the springtime. This was accomplished despite much resistance and foot-dragging from local officials, as well as general resistance or apathy from most residents. Even though an "outsider's" input wasn't welcome, I also went to the surrounding towns and helped promote similar ordinances in most of them. The ordinance has been plagued with subsequent attempts to kill or weaken it, as well as indifference or downright opposition from the local police to enforcing it, but it still stands. It has made a big difference in reducing the damage that the "mud run" truckers seem to enjoy inflicting. I was also instrumental in getting the town to (again, rather reluctantly) go along with saving a very large colony of about 10,000 Small Brown Bats living in an old Grange Hall that is now the town office building. The bats and the people now seem to be sharing the building for half of each year without any problems.
I support many conservation organizations, such as

COMPUTERS -

I always need a faster one! I particularly like programming and working with databases, so working as an Oracle Applications DBA is great!

BICYCLING - especially self-contained, long-distance, loaded touring. My first tour was a 2 month solo trip from Southern California to New Hampshire (see book). It was lots of fun and full of challenges! I also did one from Vancouver, BC to southern Oregon. My dream is to do a 10 month circumnavigation of the US.
MOTORCYCLES - motorcycles are such a big interest, I have a separate PAGE for my interests in them.
SHOOTING - another big, lifelong interest that has its own separate PAGE
SKATING - I do in-line skating and some quad. I got some inline skates, and really enjoy them. NH isn't real good for places to skate, though. However, I take 'em with me when I visit other cities. I had a great time when I took them to NYC and skated all around Central Park and even up & down the streets, dodging taxis. It's especially wonderful skating & biking when I go back to Orange County, CA for visits; miles and miles of off-street paved bike paths. In the winter in NH, I often go to GreatView in Enfield for rink skating.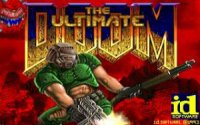 DOOM - I really enjoy this game. I've never played it against someone else, but I'd like to. My favorite weapon is the double-barrel shotgun, although I also like the plasma gun when I've got a lot of very bad demons to get out of the way. I've played similar other games, like Quake, Hexen, and Heretic, but I like DOOM][ the best. I've gotten rather good at it.
NATIVE AMERICANS - see HERE for page on Native American info
CANOEING - The Connecticut River is nice, so are local remote ponds. The CT River is on the western edge of town, separating New Hampshire from Vermont. It has a series of campsites along part of its length, so that can make a nice trip of variable length. There's also nothing quite like paddling a quiet remote pond and watching the sun set or viewing a crisp, clear blanket of stars, and listening to the loons call to each other, and hearing little splashes as the fish jump.
KAYAKING - My wife & I enjoy kayaking calm waters in NH and VT. I also enjoy whitewater kayaking, but I am just learning it.
HIKING - or "humping", as we called it in the Marine Corps. I go for walks on the trails I've made near my house, but I haven't had a chance lately to do any "serious" hiking or backpacking.
MUSIC - listening to all types. I guess my favorite kind is late 60s & 70s rock. I took a class on African drumming, which was fun. See audio page HERE.
SKIING - both cross-country and downhill. I am a "fairly good" skier, but not great. I have been skiing a long time, but I usually only go a few times a year. I live quite close to Ascutney and Sunapee, and Okemo, Killington and the White Mountains and Green Mountains are all less than an hour away. Also, my land abuts a major snowmobile trail, and I've made my own trail network around my land and my parents' abutting land, so I have lots of places to get out and X-C ski and snowshoe.
SNOWMOBILING - It's a great deal of fun to get out on the network of snowmobile trails that are around my house. My snowmobile is rather old and breaks down a lot, so I haven't strayed too far from the house with it for the last few years. Last year, I took it out twice; once at night, and the lights died (that was "interesting" getting home), and the second time I accidentally ran it off the end of a dam and into a spillway. That was some fun getting it out of there by myself, I can tell you! I don't use it enough, however, to justify getting a new one. This year (2002/3), it broke down even worse than usual; even though we had lots of snow, I got in about 2 hours of riding the whole winter.
READING - books and magazines. I like both fiction and non-fiction, but especially non-fiction. Some of my recent favorite fiction authors are Grisham and Clancy. For non-fiction, I like crime, military, espionage, adventure, and trekking books. I particularly admire the character of men like Carlos Hathcock (see "Marine Sniper"), G. Gordon Liddy (see "Will"), and Richard Marcinko (see "Rogue Warrior"). I recently finished a true story (similar to Red October) ("Hostile Waters"), about a Russian nuclear sub that nearly did a meltdown off the US east coast. I just finished reading Black Hawk Down, which is a super book about the courage of the Nightstalkers and Rangers caught up in Mogadishu, Somalia, in what has been termed "the most intense battle since Tet in Viet Nam". Based on what I read about their training, maybe I should have joined the Rangers instead of the USMC. That's blasphemy for a Marine to say! But it sounds like the Rangers there sure got a lot more training and shooting (even before the big battle) than I ever did in the Corps. I also enjoy technical reading, keeping up with knowledge acquisition in the Oracle world.
METALWORKING - I am an amateur welder, and have been for many years. I'm not a pro at it, but my welds hold well. I can't gas (oxy-acetylene) weld very well, although I haven't tried it in MANY years. I have a couple Lincoln MIG welders, with one set up for steel and one for aluminum. I also have a TIG welder. I took an intermediate welding class, focusing on TIG and MIG, over the winter of 2002-2003. I'd like to go out to Ohio and attend the Lincoln Welding School. At Oshkosh 2004, I bought a new Lincoln Invertec TIG welder. It's pretty good. See pic here.
I've wanted a metal lathe most of my life. I've recently acquired a couple "dream machines", a lathe and a mill from Grizzly Industrial. Their Customer Service is SO good! It's SO much better than, say, Harbor Freight. MSC is pretty good, too, and they have a HUGE amount of goodies in their catalog. I used to like Enco, but their customer service leaves a lot to be desired, although not quite as bad as Harbor Freight. If I could find machinist training, I'd take that, too, but there is no longer any around where I live. That's a real shame, as this area was the birthplace of the machine tool trade. I am also interested in training in gunsmithing, but I don't want to do it as a career, so that's a huge investment of time and money just for a hobby. I also do some woodworking, although it's mainly for house and building support, rather than for specific woodworking projects. I also do all my own ELECTRICAL, PLUMBING, and CONCRETE work.

ROCK CLIMBING - I used to do a bunch of this in CA with the Sierra Club. I've been trying to get back into it in NH, but it's been very difficult to find a climbing partner.

SCUBA DIVING - I hold an OpenWater II license, but I haven't done it in awhile. I took a refresher course in Feb, 2000, and did a long-awaited trip to Thailand and the Philippines in March and April of 2000. I checked out the fine diving sites in and around Cebu and Bangkok. And yes, I know the image here is of a skin diver not a SCUBA diver. Unfortunately, I perforated my eardrum on the first dive of that trip, so I can't dive any more. I have an extremely difficult time clearing my ears, even though I took medication for it. So, diving is fun, but I guess it's over for me. That's OK, as I have so many other interests.
HANG GLIDING - I have a Novice license, but haven't done it in awhile. I live within a few miles of one of the best learning sites on the east coast; Morningside Flight Center in Claremont, NH.

There just isn't enough time in life to do all the things I have passions for, so I have to alternate priorities
TURNOFFS - I hate cigarette smoke and bars. I have no interest at all in professional team sports. I rarely watch TV. I don't like people who are liars, cowards, shallow and/or can't seem to comprehend the value of honor, courage, and integrity.
LIBERTY - I'm a strong believer in the principles of personal liberty and Libertarianism, and a supporter of The Libertarian Party. I am an avid defender of liberty and individual rights. It's tragic that people grumble about how crooked politics is and how out of control the government is, yet they keep voting the same smooth-talking, self-serving liars, crooks, and idiots back into office. People won't vote Libertarian, even if they agree with the Libertarian ideals, because they feel a Libertarian can't win. And the Libertarian Party can't win because the people won't vote for them! I think most people are afraid of real change. I vote Libertarian when I can, and support Republicans when the Republican/Democrat race is close. With few exceptions, the worst Republican is a much better choice than the best Democrat, even though most Republicans leave a lot to be desired, too. Keep in mind that the Internet, at least so far, is a Libertarian environment. For news related to the constant encroachments on our civil liberties, click here. After 9/11 the encroachment on our liberties for the appearance of safety is growing greatly. See my separate LIBERTY and LOCAL pages for more details.
Take a quick test HERE to see your political identity.
This shows mine: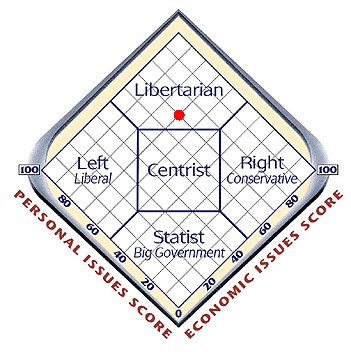 After the debacles of the Wall Street, financial, and real estate meltdowns beginning around 2007/2008. I'm probably less Libertarian than I used to be.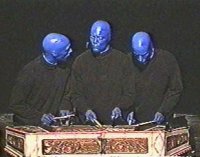 FEB 10, 2000 UPDATE: Check out Blue Man Group! This show is fantastic! I've seen these guys on The Tonight Show, and I saw them in person at the Charles Playhouse in Boston. What a great, wonderful show! It's very hard to describe, though. I had never been to the Charles Playhouse before, but its very small, intimate atmosphere helped ensure a terrific show, even if someone had the worst seat in the house. Apparently, they've been around since 1991, although I only first heard of them in late 1999. They have descriptions and reviews on their home page (click on the photo), as well as here and here .

FLYING - I have long thought it would be great fun to be a pilot. I would have given anything to be a military pilot, but that required perfect uncorrected vision, way back in the days long before corrective surgery. I've often wished I'd joined the Army & gone to Viet Nam as a chopper pilot instead of being in the Air Force, but if I had, maybe I'd be dead now. Those guys gave a lot! Anyway, I have wanted to fly for a long time. I like choppers, especially after reading the training details in the most excellent book "Chickenhawk", but helicopters cost 2-3 times as much for air time as fixed wing aircraft do. So, in October, 2001, I started training to get my fixed wing license. I also considered going for balloons or back into hang gliding, but I think I'll like the added control of an aircraft with an engine. I may go into ultra-lights or helicopters after getting my license.

SEPT 4, 2002 update: I got my license in May, and have been flying every chance I get. I just ordered a kit plane, and will be documenting the building progress on my

RV-7A BUILDER'S SITE.

Feb 4, 2003 update: Between the racing, the shooting, and the flying, not much time left over to update the old web pages! Maybe more updates coming later as I find time. Now that I've started building my plane, there is NO free time!

May, 2008 update: I'd been quite interested in getting an ultralight plane while I continue to build my RV-7A. Unable to find any local instructors for ultralights, I flew to Deland, FL, north of Orlando and took a week's transition training in the ultralight of my choice, a Quad City Challenger II. On the way back from Florida, I stopped off in NC and bought a very nice used Challenger II.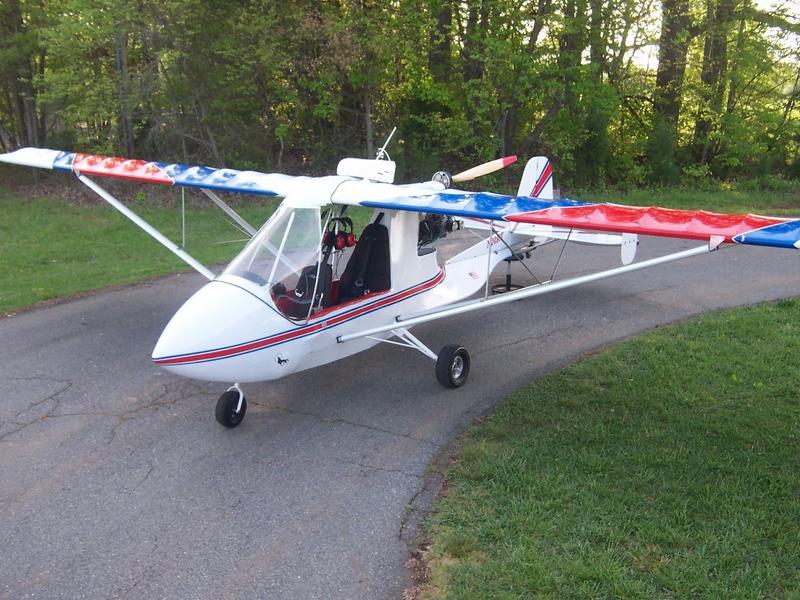 This plane is a TOTAL blast to fly! As of the end of 2009, I had a couple hundred hours flying it. In 2009, I flew 75 flights in it.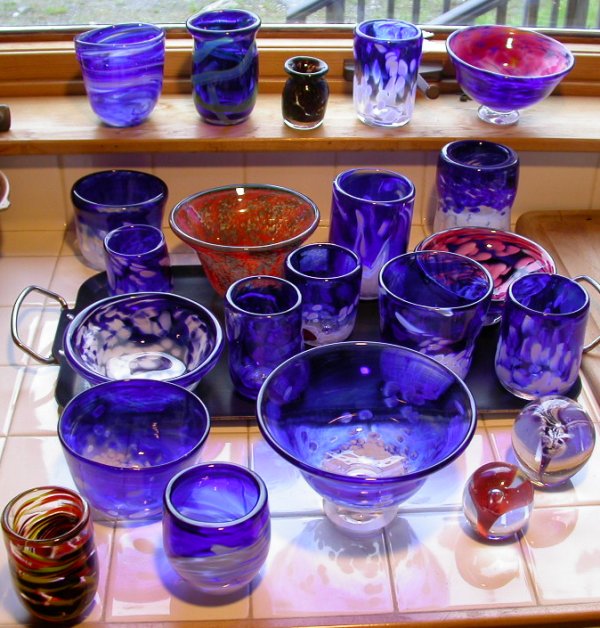 Here's some of my glass work. Last fall, I started doing something I've wanted to do for a long time; glassblowing. I do it with Bob Burch at Brandywine Glassworks in Putney, Vermont. I usually do it once a week. I experimented around with various colors, but found the white & blue to be the closest I could find to what I was seeking. Just one more thing to squeeze in to my schedule. I also resumed doing leatherwork over the winter & made a few things, including my wife's purse. I last did leatherwork in the mid 1970s.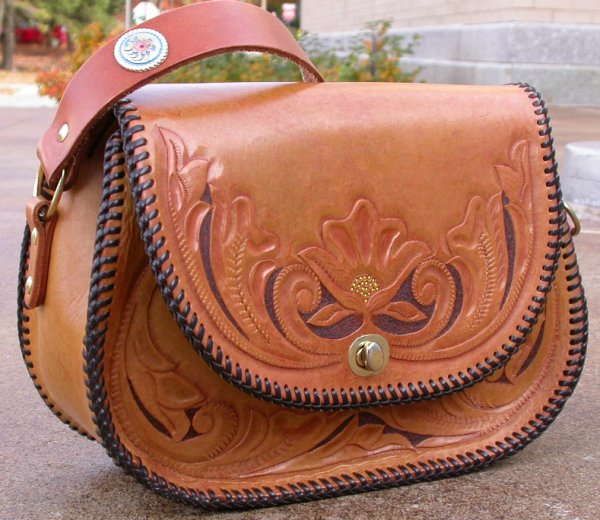 This is the pocketbook I made for Karla during the winter of 2008-2009. I also made a few other things, too.
November, 2009 update: I've had a wood lathe for many years, but used it very little. I'm gearing up to do some turning projects this winter, especially bowl making. I made several very nice bowls.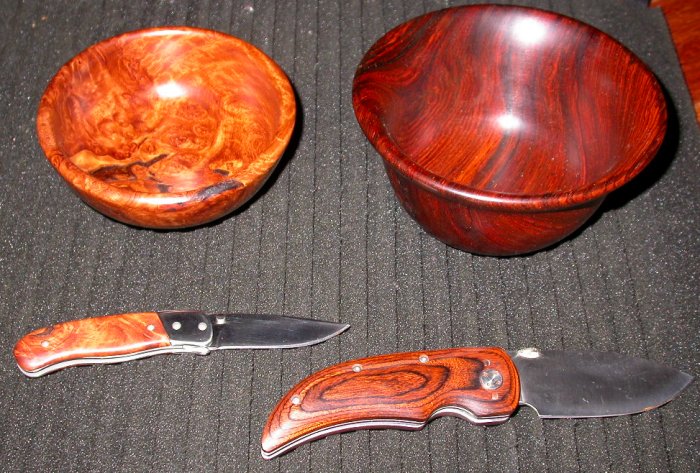 A couple of the knives & bowls I made in December, 2009. On the left is amboyna burl and on the right is cocobolo.
July, 2010 update: Karla and I are raising 25 chickens this summer. It's a mix of at least 6 different heritage breeds.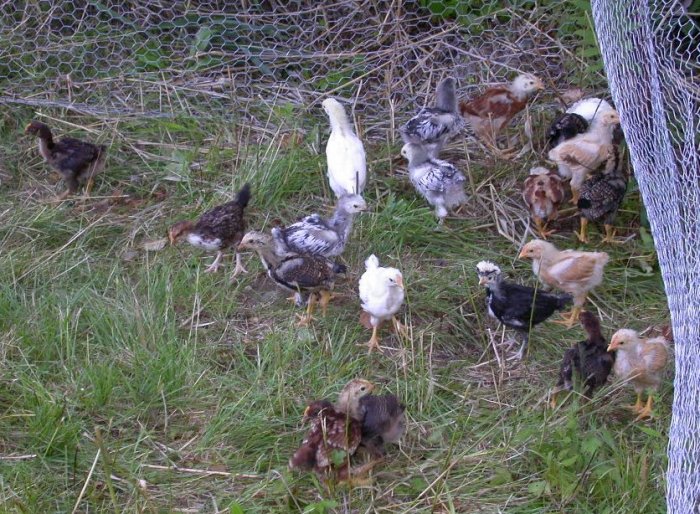 This is about 2/3 of the chickens, out enjoying their pen outside the coop I built in June. They are about 3 weeks old here. Cute little buggers. See HERE for a short movie of them.
Sept, 2010 update: I had a traveling butcher come in and process the chickens, as I didn't have the heart to kill them. They tied us down some for the summer, but it was a fun experience.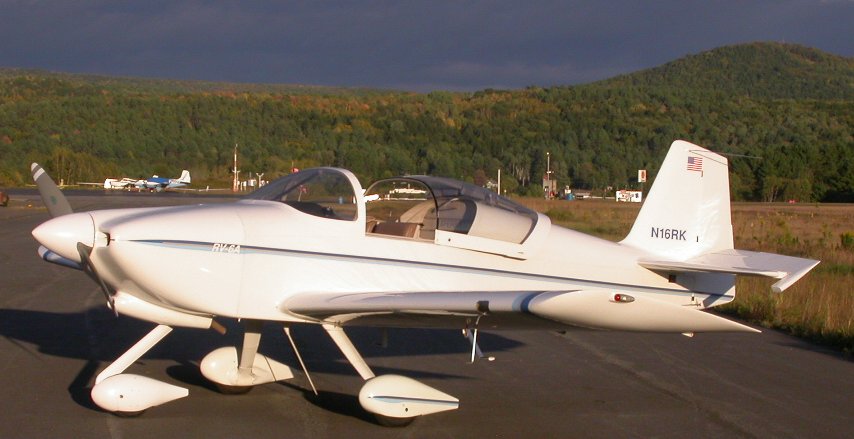 I sold the RV-7A I was building and bought this flying RV-6A instead. It's a BLAST to fly. Very fast & lots of fun!
page last updated Dec 1, 2010
BACK TO MY RV BUILDER'S HOME
BACK TO BRIAN'S HOME